Pink and Brown Baby Nursery Ideas with DIY Decor
by AKC
In the six (6! YIKES) years that I've been involved with Unique Baby Gear Ideas and up to my eyeballs in nursery ideas on any given day..or night, I have come to the conclusion that DIY decor is one of the best ways to personalize the room. Not having room for a workshop filled with woodworking tools or a sewing room equipped with a serger, sewing machine or a quilt frame; I also learned ways to take ready-made items and embellish them to give them a completely new look for whatever nursery theme or color scheme I happened to be working on at the time.


Take these sheer, white curtain panels that are lovely but plain.
I love the clean look but they have no pizzazz.
I believe that after sewing some pink and brown bows made from satin ribbon onto the panels that they are so much more interesting and attractive.
They can be removed later if you are very careful when you sew them in place leaving you with the same panels you started out with.
After the window treatments, I was browsing for more items (including the perfect baby bedding set, but more on that later) for the
pink and brown baby nursery
in a butterfly theme when I came across this possibility for a mobile and/or ceiling light fixture.
For those of you just joining in; pink and brown has been a favorite combination in the baby girl nursery for several year as have butterflies which creates the need for a unique focal point like this chandelier/ceiling mobile that is sure to flutter in the breeze AND grab the baby's attention as well as that of all visitors to the nursery.
If I weren't lacking for butterfly themed decorations I might make my own DIY chandelier like this example using paint chip samples.
I suppose that if I wanted to I could buy a butterfly punch and
make a DIY paper baby nursery chandelier
myself. But the store bought one is
cheap
and the only way it would be worthwhile would be if the colors were all wrong which (thankfully) they are not.
I always take the time and the cost of sewing and craft supplies into consideration when making the decision whether or not to make something myself or buy something.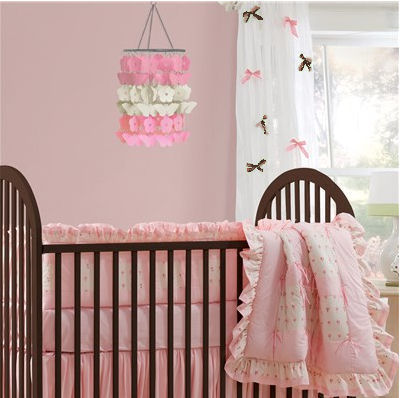 The end result of this decorating project should look something like this. Don't you think the easy crafts and DIY touches add a lot to the decor?