Personalized Baby Bank
by Jan

The Personalized Baby Bank Big Belly Banks Review and giveaway will educate well meaning friends and family members as to why Big Belly Banks make such fabulous gifts for baby showers, birthday parties or holidays.
These adorable banks are chock full of personality, decorative possibilities and are truly the gift that keeps on giving.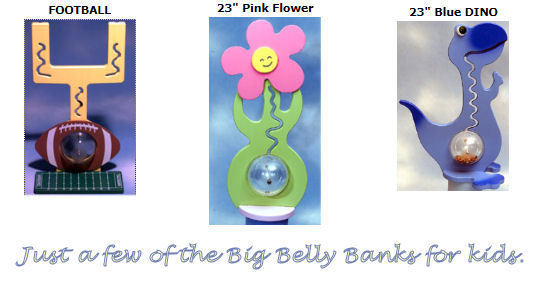 Go here to see more
Before I tell you about John Chesnut, the creative mind behind Big Belly Banks, I'm going to confess that I'm a lazy shopper who prefers to buy gifts online rather than go through taking the children to the store. It's all I can take to venture out grocery shopping once or twice a week with kids in tow so when a gift is needed, I'm all about looking for imaginative, educational gifts on the web. And I've gotten really good at it! I have found some fabulous stores that I visit not just once but repeatedly and Big Belly Banks has now been added to my list.
A baby shower gift that I love to give is a personalized baby bank that will complement the color and style of the new baby's room. When I am hired to decorate I like to buy items for the baby that are in keeping with the nursery's decor as a gift. The last baby girl's nursery that I decorated was in a pink, Hello Kitty theme so I requested that Big Belly Banks send me a pink kitty cat bank to review but they have banks in most any kids' room or baby nursery theme you can imagine!
There are:
Personalized train banks
Fish Banks including dolphin banks
Dinosaur Banks
Wild Animal Banks for a Jungle Theme including elephants and giraffes
Banks for both baseball and football fans
Dinosaurs
Alligators
Dogs and Cats (including the cute Hello Kitty bank that I got)
Flower Banks
Dragons
A friendly Moose Bank
These are not old-fashioned piggy banks that don't make saving money fun for kids. And speaking of saving money; Big Belly Banks hold a lot of
nickels, dimes, pennies and quarters! One bank holds almost 1000 quarters!
MADE IN THE USA
And to be sure that everyone has spare change to feed these adorable wooden banks, Big Belly Banks are handcrafted in the USA by John Chesnut who first made and sold wooden puzzles before he had the idea for the banks. Any product made in the USA provides jobs to American workers and helps our economy so buying one of these banks whenever I possibly can is the smart thing to do!
The first bank John made was for one of his own daughters. Since the original, he tweaked and refined the idea
QUALITY
One of the (few) issues that I have with buying gifts online is that some companies:
a. evidently take a picture of a quality product and then mail you what seems to be a cheap replica of what you saw on their website. The color might be off, the construction might be poor or the materials are flimsy and won't hold up under normal use.
b. package the item so poorly that it arrives damaged. This leaves you scrambling to find another gift in time for the party or baby shower and negotiating a return with customer service.
I'm happy to say that in my experience, I had no such problem with the pink kitty cat bank that I got. It was delivered in perfect condition, packaged nicely and the color and quality was everything I expected and more. It's my opinion that you can order from Big Belly Banks with confidence and be relaxed knowing that all of the personalized banks for babies that you need are a few keystrokes away and they even come with a special gift card.
SAVING IS FUN and EASY
Before I sent the pink kitty to her new home (to the complete and utter dismay of my oldest daughter who wanted to keep her!) I unpacked her to inspect her and feed her some change to add to my baby gift and to see how fun it was to feed her. I dug in my purse to find some change and I let my girls feed them to the kitty. They giggled and laughed each time they watched the coins roll down into the cute, pink kitty cat's tummy.
All of the banks can be personalized and are so much fun to feed using the creator's patented coin track to
EAT THE MONEY
! In fact, I highly recommend putting the bank in a central location where visiting adults will be tempted to "feed" the animal so they can see how it works. What a boost this will be to baby's college fund!
REMOVING THE MONEY
I didn't remove the money but I could tell that it would be simple enough for an adult to manage but not so easy for a child. Unlike most banks that have a round plug, this bank has a long bolt that holds the two halves of the belly where the money is stored together. When the belly is full, you would unscrew the bolt to separate the two sides of the belly to take the money out and start over!
COST
Before I found these personalized baby banks for sale online, I bought small, ceramic piggy banks as gifts. When I say small, I mean they were at most 7 inches tall and cost $35 plus shipping! They were cute enough but really no fun for the kids.
This contest has expired
In comparison, I can buy a Big Belly Bank that is
TWENTY INCHES TALL
for only a few dollars more that the kids AND their parents love so much more than they ever did the baby piggy banks that I used to buy.
Unique Baby Gear Ideas