Cute Panda Baby Bedding and Nursery Decorating Ideas
Panda baby bedding sets as such have not been easy to find and believe me I've looked. Those sweet looking, fuzzy bears with the big white circles around their eyes are just so cute and perfect for a child's room! Kids love bears of all kinds. Hey, adults love them too and that's who is putting together the panda nursery decor so there you go. Let's go looking for baby panda stuff!


A panda nursery theme starts with only two absolutely necessary colors: BLACK and WHITE. This is a decorator's dream theme! You can consider the decorating of your panda themed room with cute fabrics with baby pandas printed all over it. Appropriate accessories for this style of crib bedding would be anything with a rainforest feel to it. Lots of greenery, tropical birds and even a friendly stuffed snake used as decorations would work well as nursery decor for this particular design.


Huge, oversized or even GIANT plush stuffed panda bears will entertain your baby and provide lots of decorative punch for your decorating budget. You can find stuffed animals, panda bears and tropical birds that are amazingly lifelike to use in a bear theme nursery for baby! And don't forget the panda pictures to decorate the nursery wall! That is one of the best and most casual ways to accessorize the cribset.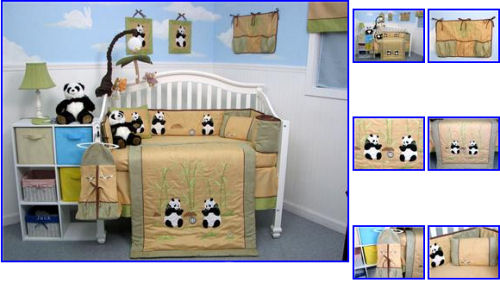 The colors of the nursery rug will be determined by the colors in your panda baby bedding set, of course! But don't miss an opportunity to give your panda decor the Asian jungle feel that it calls for with a natural sisal rug or bamboo flooring with a soft nursery rug for playtime.



MORE Panda Baby Items

Giant Stuffed Panda Bears

Panda Pictures and Gifts

Kung Fu Panda Party Decorations


SHARE IDEAS - PICTURES of PANDA THEME NURSERY DECOR
Do you have a great set of baby bedding or a picture of a nursery that you decorated in a Panda bear theme? Share it!
PANDA THEME NURSERY PICTURES, IDEAS and SUGGESTIONS from our FRIENDS
Click below to see contributions from other visitors to this page...

Baby Panda Pictures Not rated yet
Picking baby panda pictures for your baby's nursery may not be as easy as you might think! Pictures of a baby panda snuggling with mom would be perfect …
If you have an unlimited nursery shopping budget and have dreams of luxury nursery decor, you can still use panda baby bedding in the crib or other styles of baby bedding sets and then accessorize with your baby panda collectibles! Luxury nursery couture comes in all themes! And the panda theme is one that will last a lifetime! The panda fabric may have a more elegant and subdued color theme and the fabric may be silkier, but your baby can still have a couture panda baby bedding set in your chosen panda bear theme. When choosing fabrics for your panda baby bedding set, cost may not be an issue but baby's comfort and safety is always at the top of a mom's list. Polished cottons with a soft and silky hand for baby's panda bear comforter are a fabulous choice. Alpaca or cashmere baby blankets with appliqued panda bears are excellent for chilly nights when something more than your panda bear nursery bedding is needed for a little extra warmth. The panda blanket will stay in keeping with your overall panda theme and primary panda baby bedding design.
Picture a fabulous lacquer painted wooden baby crib carved to look like it was crafted of black bamboo along with other Asian themed nursery furniture. Another excellent choice would be a legacy iron crib with a matching iron canopy molded in an intricate design with silky fabrics draped over the headboard and repeated in your panda bear nursery bedding set. Get busy and find some oriental cabinets inlaid with mother of pearl that would pull double duty as baby dresser and changing tables. If you look carefully in the hand painted scenery on your antiques or even contemporary pieces, you may see the occasional panda bear munching on bamboo shoots in the background of your panda bear or Asian baby theme.
Please make plans to visit us agains soon to find the latest panda baby nursery ideas , baby bedding sets and gifts.