Convertible Pali Cribs and Furniture for Baby
Convertible Pali cribs are produced for your baby by a company that has been in operation for approximately forty years. Because of its longevity as well as quality merchandise, Pali is a popular brand with new parents. On first inspection, you may find that these products are slightly more expensive than similar items in baby discount stores but when you consider the fact that convertible cribs, with proper care can last forever; the price seems more reasonable.




A white Pali Forever crib is a popular choice with parents who are looking for a convertible crib that will last their baby for years if not literally "Forever".
The Pali Presto crib is the perfect choice for a space-challenged family that needs a baby crib that is easy to store.
Go Here to See More
The Presto crib is ready for baby within a few minutes of opening the box and can easily be folded and stored when not in use. Its unique design eliminates the frustration of reading manuals and trying to put the bed together.
It comes with two mattress positions that and is convertible into both a toddler bed and a day bed which means it starts out saving time and ends up saving you CASH!

Sturdy construction assures you that your furniture will last until it's time to give the nursery a complete makeover and baby is ready for a toddler bed or even longer if you purchased a convertible baby bed.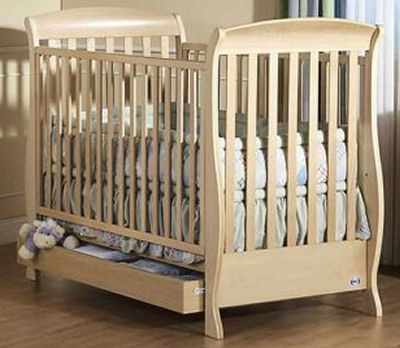 HOW MUCH DO PALI CRIBS COST?
The price of wood, labor and market conditions has a direct effect on the pricing of all furniture and this brand is no different. At the time of this article, the price ranges from upwards of $300 to $700 and beyond. Those numbers might seem expensive but many of the beds are convertible which greatly extends the years of use. There are ways to pick up bargains at rock bottom prices if you know where to buy used Pali cribs in excellent condition. In fact, some frugal shoppers report that they have bought Pali baby beds for less than $100!


USED PALI BABY CRIBS
High resale values are another reason that budget minded parents don't mind paying higher prices for Pali cribs. Frugal shoppers are aware that they can save quite a bit of money by furnishing their baby's nursery with used cribs and Pali is at the top of the list of best baby cribs. This fact levels the playing field where price is concerned between cheap baby beds and a high quality Pali crib and headboard.
In fact you might come out better by buying a designer brand over one that initially appeared to be cheaper. A few things to consider before you buy used Pali cribs might be whether or not an instruction manual comes with the bed and whether or not replacement hardware and parts are still available for the style and model that you are purchasing. It would be terrible to buy a used baby bed only to find that you were missing essential parts that have been discontinued.
WHERE TO BUY USED PALI CRIBS
The first place that springs to mind to buy used baby stuff is on Ebay. This is fine, but be sure to calculate the shipping costs when figuring your savings on nursery furniture you pick up on auction. It might be a good idea to search for local auctions to save on freight.
Look in your local classified ads for yard sales where you might find everything you need for your baby's room from the crib to changing tables and decorations. Cruise your local consignment shops and goodwill stores on a regular basis to catch the good deals when they come in the door.
Pali Reviews

The best way to make a decision on which baby bed is best for your needs is to consult with other parents, read consumer reports and to inspect the crib in person to insure that the overall quality and safety features are up to your standards.
Return to Unique Baby Gear Ideas and more information on the top brand names in baby nursery furniture.