Cute Owl Baby Shower Cake Ideas with Pictures of Designs in Pink with Pretty Toppers
The cute owl baby shower cake ideas and pictures that you see on this page will inspire you to create your own designs in pink, blue, green or any colors needed for your party. 
Beginners can easily make their own owl cake, frost it with (store bought?) buttercream frosting and decorate it using a topper or as you will see in many of the photos, cover the layers with colorful fondant.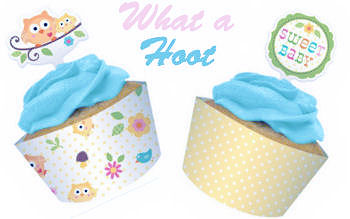 Go here to get
supplies to make cakes or cupcakes for your owl themed shower.
You can buy a topper for a layer cake or sheet cake or individual picks for cupcakes which, by the way, always look more festive when they are arranged and displayed on a stand.
Remember that the colors of the cake that you make should reflect the party's theme and color scheme.
The Easy Way to Make Polka Dots with Fondant
I didn't have much confidence when I made the
pink and brown baby shower
cake to use a pattern for cut-outs. I was just beginning to decorate cakes with fondant and pretty scared to use any of the advanced decorating techniques that I admired so I simply used large and small frosting tips to make circles in two sizes for the polka dots.
Only large dots were used on the owl baby shower cake in the above picture.
How to Make a Large Fondant Bow
The key to learning how to make a fondant bow cake topper is to start small. The bigger the bow, the more difficult the process of supporting the loops, etc.
The first bows that I made to decorate "mini-package" cakes were only a few inches wide and didn't require foundations to support the loops of the bow as they dried and hardened. For really large bows, you will want to use gum paste rather than fondant. The benefits of using gum paste is that the decorations can be used again saving both time and money
if
you're really careful how you handle and store them.
How to Make Fondant "Beads"
I learned early on that the "pinch and roll" method of making fondant beads to give the bottom of my cakes a finished look simply did not work. I wanted beads (read: balls of fondant) that were as uniform in size as I could manage which required some method of measuring how much went into each one. What worked for me was to roll the fondant out in a sheet (slightly thicker than you might use for a pie crust) and use frosting tips to cut out circles that I then rolled into balls. VOILA! My beads were as pretty as a string of pearls.
Owl Cake Pattern for Fondant Cut Outs
It turns out that I was scared about using a pattern to make owl cut outs for no reason especially since I was a master in the art of making shapes with Play-Doh when I was a kid; ok, I still am! Using
this tutorial
, I made some really cute, hot pink owls if I do say so myself! The instructions are for fondant owls with a dark pink body with light pink wings and orange feet and beaks but you can easily substitute baby blue for a boy, shades of green for a neutral shower or even a lavender and purple color scheme.
The best tip here is to ask for a sample of the
baby shower invitations
and take your cues from them. I have all the faith in the world that you can do as well if not better than I did; give it a shot!
I hope that you have enjoyed my directions for making an owl baby shower cake and that you will visit
Unique Baby Gear Ideas
to share pictures of your owl cake when you're finishing baking.