Nature Room - Painted Tree Nursery Wall Mural with Beautiful Birds
by Neha
(San Jose, California, USA)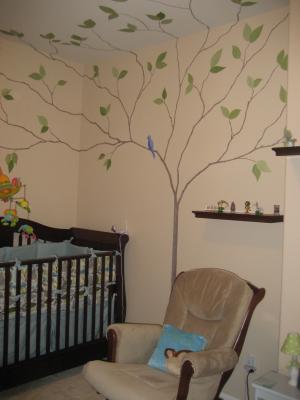 The Nursery Tree Mural with Song Birds - A Lovely Blue and Green Natural Nursery Wall Painting Technique
From the minute I learned of the pregnancy, I knew that I wanted a nature room, one that would be peaceful but fun for the baby to look at. The room colors are blue, green brown and beige with a nature theme. I came up with the idea on my own - after thinking a lot about what I wanted to do with the room.




Go Here to See More
I decided to have a
mural of a tree
painted on 2 of the baby's nursery walls that would extend onto the ceiling.
I found a picture of a tree and hired a mural artist to paint the tree onto the beige walls. The tree has a thin trunk and thin branches with a few shades of green leaves. It also has 1 blue jay on it.
Then I bought cherry colored Shermag furniture (crib, armoire, changing table/dresser, and a glider and ottoman).
Then I bought
crib bedding
that has leaves but also has shades of blue so I could integrate more blue into the room.
I got a rectangle nursery rug with a beige background and blue circles - the circles are various shades of blue.
On the glider is a blue pillow with a picture of a monkey.
There is a blue nightstand next to the glider with a green lamp and a blue clock/cd player on it.
Above the nightstand are 2 wooden shelves hung up on the wall. One shelf has a green picture frame and the other shelf has 4 wooden animal statues.
The changing table has a changing pad with a green cover.
Above the changing table I painted wooden letters of my baby's name. The letters are green with tiny blue circles.
Above the closet I painted 2 wooden mirrors with animals. One frame is of a lion and the other one is of a giraffe.
There are a few stuffed animals on top of the armoire - an 2 elephants and 2 bears.
Next to the crib I have a nightlight with a shade. The shade has leaves and branches painted on it to look like the tree on the wall.
Right next to the door is a University of Michigan (my husband went there) growth chart. Its green to match the rest of the room.