MONKEY NURSERY IDEAS
by Mai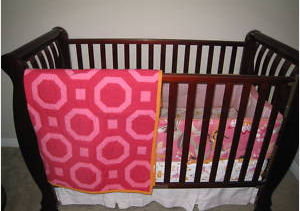 Pottery Barn Emmy Monkey Crib Bedding Set Baby Nursery Pictures in Hot Pink, Orange, Pastel Pink and White
My monkey nursery ideas are orange, pink and brown because after having 3 baby boys and finally expecting a baby girl, gender neutral is just not going to be how we roll! There's very little green in my baby's jungle room this time around!


Save 30% on 20,000+ Crib & Kid bedding items, Cribs & Changing Tables from 20+ leading brands. Free Shipping. Low Price Guarantee.
GO HERE TO SEE MORE!
As always, I took a peek on Pottery Barn Kids website to see what they had in on sale and there in the discontinued section I found Emmy curtain panels for $30...but no crib bedding so it was off to Ebay to see what I could find.
There were plenty of separates for sale in auctions (new and used) but I figured it up and realized that I could buy the 6 piece set (that was listed at $280) for less than if I bought everything piece by piece because of the shipping charges. However, I did buy a couple of extra crib sheets because after outfitting nurseries for three boys, I have learned a few things about what wears out first!
The other
monkey nursery bedding
collections that I considered were the Melanie the Monkey set by Cocalo and the Funky Monkey by Doodlefish. Melanie the Monkey was cheap and had good colors that would play well with my
monkey nursery ideas
. I liked the Funky Monkey collection much better but it was more expensive than the Pottery Barn Kids Monkey crib bedding (go figure) and the cream, pink and brown colors just didn't compare with the Emmy set!
My plans are now to tone down all that orange and pink with a shabby chic baby dresser that is a perfect shade of antique white!
The lesson that I learned here is that if you find a baby bedding collection you love, never assume that it's too expensive or that you just can't make it work until you exhaust all resources! It takes a little time, but it's worth it when you get the nursery of your dreams!