Me Giant Baby Clothes Review and Giveaway
by Jan
Before moving on to the Me Giant Free Baby Clothes Review and Giveaway, I want to share a review of their clothing line and tell you why I think this company stands out among the many, many places that sell clothing for babies both on and offline.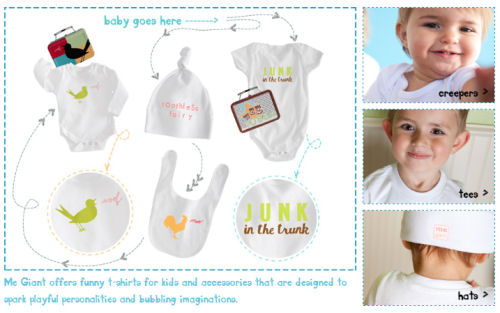 When I spotted Me Giant, my first response was cute colors and animals and then my oldest girl, who was looking over my shoulder, said, "What's that elephant say?" (read: baby talk) I told her that elephants don't talk but then I noticed that THIS red elephant didn't talk but he did indeed CHIRP! We had a big laugh about this and I knew that Me Giant is onto something.
The elephant is not the only animal on their cute clothes that makes us laugh, I absolutely love the bird that woofs, the moo-ing rooster, the quacking rhino and the list of funny animals with mixed op sounds goes on and on! By the time we made our way through the entire product line, we were so tickled we were blowing chocolate milk out our noses!
After speaking with the amazing Sheila of Me Giant (the website indicates she is the chief keeper upper which is a really cool title if you ask me!), she mailed out a sweet little metal lunch pail chock full of cute short and long-sleeved t-shirts for me to check out for the Me Giant Baby Clothes Review and Giveaway. Just so you know, when you order a baby's onesie, t-shirt, bib or hat it will come in an adorable metal lunchbox; talk about presentation! This little unexpected treat beats any gift box!
Getting back to the clothes, my absolute favorite is the long-sleeve
"TOOTHLESS FAIRY"
tee. It's just the right weight and everything that I look for in baby clothes to give as baby shower gifts and for my girls. There are a lot of moms that stop by looking for
nursery ideas
for themes that focus on birds, dogs, cats and other animals that I know will appreciate them, too! The bottom line is that Me Giant has clothes that will make you smile on so many levels.
Highlights of their clothes include their commitment to safe, quality products, exceptional customer care and the delivery of small things with giant style right to your door!
Before we get to the Me Giant Free Baby Clothes Review and Giveaway here are the highlights:
Me Giant
:
Sells precious baby onesies, T-shirts, bibs and hats that are both cute AND fun
Delivers their cute clothes in a metal lunchbox which is an outstanding gift in itself
Makes it easy for your kids' outfits to match
Prints each onesie and shirt with cute sayings in cheerful colors
Now…the giveaway!
One lucky mommy is going to get to take a shopping spree at with a $50 gift card good for
FREE baby clothes
from Me Giant and here is how you can enter to win!
As your
MANDATORY ENTRY
LIKE
Me Giant on Facebook
AND
LIKE
Unique Baby Nursery Decorating Ideas
on Facebook. Please post on BOTH WALLS leaving your username in your comment.
Bonus Entries:
1. Check out the videos on my
baby gear reviews
channel on Youtube and either subscribe to our channel or leave a comment on one of the videos and return to tell us for
10 bonus entries
2. You should also follow
Me Giant
on Twitter and follow
msbaby
on Twitter and tweet: Check out the Me Giant Baby Clothes Review and Giveaway hosted by @msbaby – Enter to win here: https://www.unique-baby-gear-ideas.com/free-baby-stuff.html shorten url and leave a comment . You can tweet the $50 gift card giveaway DAILY and leave a comment each time.
3. Enter other contests in addition to the Me Giant $50 Gift Card Giveaway for a chance to win more FREE Stuff for babies like free diapers, baby gear or gifts for kids and moms! (1 entry for each contest you enter)
4.
5 ENTRIES
– Blog about the Me Giant review and giveaway linking to this page and provide a link to your post. (Post FIVE separate comments for this!)
5.
10 ENTRIES
Check out the photos in our nursery picture gallery that have been entered in our
BABY NURSERY PICTURES CONTEST
and vote for your favorite in the comments section then tell me where I can find your vote for 10 entries and be sure to tell the moms which of their
nursery decorating ideas
is your favorite.
6. Add my website's button on your sidebar or resource page (if it's already there, let me know (it won't count if it's on a page where nobody will see it) and post the link to your blog in your comment (2 separate entries) using THIS CODE:
https://www.unique-baby-gear-ideas.com/images/ubgibutton.jpg
7. Post a link to my
baby blog
(using my URL), with a link back for
(10 bonus entries)
.
8. Post a link to
Baby Shower Decorations Ideas
blog on your sidebar or your resource page (using the provided URL), with a link back to me for
(10 more entries)
9. Become a GFC follower of
Unique Baby Shower Ideas
and let me know your user name for verification purposes. (5 bonus entries)
The Me Giant Baby Clothes Review and Giveaway will end on Wednesday October 5, 2011 and is open to residents of the United States only (void where prohibited by law).
The winner of the $50 Me Giant Gift Card will be contacted via email and will have 48 hours to confirm before a new winner is chosen.
Thanks to
Me Giant
for their sponsorship and for the lunchbox full of sweet t-shirts they sent me to review!
There is No Purchase Necessary to enter to win the Me Giant giveaway contest or any of the other freebies I have posted and I received no compensation for my review or opinions.