Lucky Beatles Baby Nursery Theme
by Nicole
(Simi Valley, CA)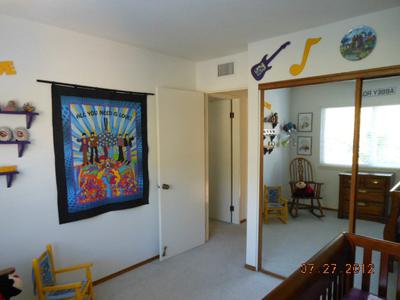 My baby girl's lucky Beatles baby nursery theme
I created what I call Maddie's lucky Beatles baby nursery theme for my first granddaughter, Madelyn Kylie. Madelyn (who quickly became "Maddie") was premature but our scrappy little girl beat the odds and survived so I nicknamed her "Lucky".
I wanted to design a room that was something very special for our plucky little lady.



The style of the nursery was built around a quilt that her great-grandmother had made for me several years before she passed away. I wanted "Lucky" Maddie to have an appreciation of these talented musicians who had touched the lives of multiple generations as well as her great-grandmother that she never met but lives on through her art.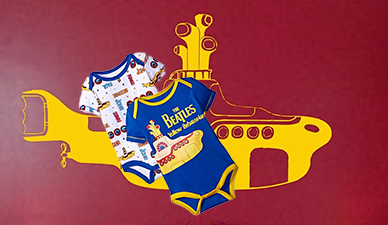 Go here to see many
Beatles themed wall decorations and baby items.
One of my favorite decorations in the space is the
psychedelic Beatles
wall hanging featuring the quote "All you need is love". I am so happy to say that love is one thing that our baby girl will not be lacking for.
The
musical notes nursery
wall stickers are reusable vinyl and can easily be moved if we choose but for now I think they look pretty behind Maddie's crib.
The Beatles nesting dolls, John, Paul, George and Ringo, on the wall shelves are just part of an arrangement of Beatle themed decorations. The wooden "Imagine" cutout and the green peace sign pull colors from both the dolls and the quilted wall hanging.
The John Lennon Real Love crib sets are actually have more of a jungle animals theme and was not a good match for the colors of Maddie's room. Not being able to use this brand was just a minor setback that did not take away from our concept.
Overall, I think that our Beatles baby nursery theme was a total success and hope that it will inspire
Unique Baby Gear Ideas
' visitors to follow their hearts in their own nursery decorating projects.