BEATLES NURSERY THEME
by John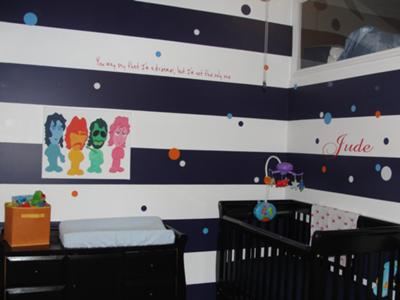 Jude's Blue Striped Beatles Theme Nursery w Black and White Painted Horizontal Stripes on the Walls
I was surprised to find that decorating Jude's blue striped Beatles themed nursery took much longer than I thought it would. The painted black and white horizontal Stripes took lots of patience and were much more difficult to manage even with careful planning.



The tools necessary to master this DIY wall painting technique are a laser level and lots and lots of painter's tape to mask each stripe on the nursery walls one at a time.


SEE MORE HERE
The baby's room has 12' ceilings, so painting stripes at that height that was a blast as you can imagine.
BEATLES THEME NURSERY FURNITURE
The black crib, changing table and cabinet had been used by another family and were all a light colored wood which didn't work with our color scheme. I sanded all of the pieces down and then primed and painted everything again to achieve this new, beautiful finish.
Jude's Blue Striped Beatles Themed Nursery Decorations
We found a picture of the The Baby Beatles painting online and my wonderful, creative wife recreated it on canvas for our little guy (YES this is an actual painting!).
WALL DECALS
The lyrics that we chose to use to decorate the walls are from the Beatles song "Blackbird" ("You were only waiting for this moment to arise") and the John Lennon song "Imagine" ("You may say that I'm a dreamer, but I'm not the only one"). We ordered these custom decals from a website. We also ordered the vinyl sticker with
nursery wall letters
spelling his name above his crib from this site at the same time we ordered the decals with the song lyrics.
Brian Andreas is one of our favorite artist/authors. The titles of the two art prints that we chose to buy from his collection are "Such Small Things" and "His Laughter".
From the webmaster:
Jude is one lucky baby boy to be surrounded by such a beautifully decorated
Beatles nursery theme
filled with love and some of the most inspiring words of our time. And....it did not escape me that your name is John!
So many new parents that are Beatles fans have expressed their need for
baby nursery ideas
that were more subtle than a psychedelic Yellow Submarine theme but more indicative of the Beatles culture than the
John Lennon baby bedding
sets. I believe that they are going to love Jude's Beatles nursery theme!
Thanks for entering your Beatles nursery in our baby nursery pictures contest!