Leila's Pink and Brown Nursery Decorated in True Southern Style
by Savvy Southern Style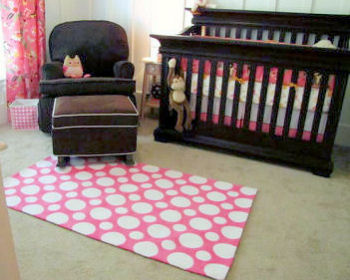 Baby Girl Pink and Brown Monkey Theme Nursery with Sock Monkeys, Owls and a Pink and White Polka Dot Nursery Rug
The inspiration for Leila's pink and brown nursery was the baby bedding and the drapes. The colors and pattern of the fabric kicked off the whole room and then Brooke, the mommy-to-be came up with the wainscotting idea, which her father installed for her.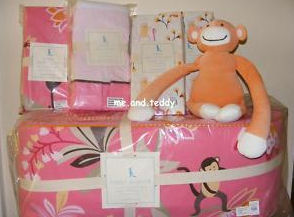 SEE MORE HERE
Then she and her mom, Kim (who is none other than the webmistress of
Savvy Southern Style
) painted it together. It stands to reason that Brooke inherited her talented mom's gift for decorating and shopping for just the right pieces that will make any room of the home sing with color.
Ever since Kim told fans of her blog that her daughter is expecting we have been waiting to see pictures of the nursery decorating ideas and it was well worth the wait because sure enough the nursery is just the cutest ever.
Kim took some pictures of the nursery when all that was left to do was to hang the baby's mobile from the ceiling. She has given us a hint that it's not your usual mobile and that she will share pics of it when it's in place. But while we wait to see the mobile...there's lots to see right now and here are a few details!
The vinyl wall decal is pink and the wall paint color is chocolate brown although the picture doesn't show the rich brown color very well you get the idea.
In addition to the border of pink dots surrounding Leila's initial, there are many more items decorated with polka dots in her pretty pink and brown nursery that provide a lovely accent to the monkey motifs of the

baby girl's pink monkey bedding
set and window treatments.
The

white and pink polka dot nursery rug
that you see peeking from under the ottoman came from Pottery Barn. It was originally intended for use in the bathroom only to find that it was too big for the area. My daughter had bought a brown and white polka dot rug for the baby's room, but once she had the chocolate brown chair in place she decided there was too much brown in the room so she replaced it with the pink and white rug.
And speaking of the chocolate brown nursery chair; the closeup picture of the cute, stuffed owl does a nice job of showing us how soft the corduroy upholstery fabric really is.
And the adorable pink and white sock monkey seems to have bounced right out of the lively fabric of the pretty pink, brown and antique white
monkey baby bedding
set that sets the tone of Leila's
pink and brown nursery
. She seems to be just hanging out, waiting for the baby girl that will occupy this stylish room to come and play with her.
To see more of Kim's creative nursery decorating ideas you should make plans to visit Savvy Southern Style!