Lamb Baby Nursery
by Rachael Cooper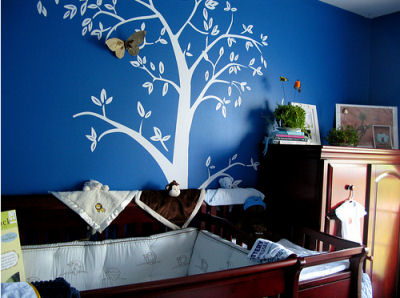 Navy Blue Lamb Baby Nursery Walls w Moth Tree Mural
Our lamb baby nursery is still a work in progress. There are two pics on the baby's armoire that need to be framed and hung and I have plans to hang plants from the ceiling and other items on my "to do" list but I love being in the room just as it is .. it's just such a happy place to be.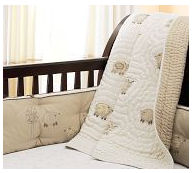 GO HERE TO SEE MORE!
LAMB NURSERY DECOR DETAILSTREE MURAL
The foundation of the tree mural is a vinyl decal that we bought and then embellished with a large moth to give it a three dimensional look and to contrast with the navy blue nursery walls.
THE FURNISHINGS
The baby's crib came from Babies R Us as did the nursery armoire but while they do look very nice together they are actually not from the same furniture collection.
ARTWORK
I found the sheep print that you see decorating the top of the armoire on etsy at "Fall Down Tree". By the time you read this, it may have been framed and relocated to the wall.
LAMB BABY BEDDING
The organic
lamb nursery bedding
is from Pottery Barn Kids (and is currently on sale at a nice discount)and is called the Sweet Lambie Nursery Bedding Set.
The crib set is not only organic but comfortable and SO CUTE! It's adorable but we learned that you can't buy many of the decorative accessories that match it on the PB Kids website. So, if you decide this the baby bedding that work work for whichever of the
lamb nursery themes
that you have selected, get ready to shop the auctions to find some of the stuff.
You can still get the lamb baby mobile, the nursery lamp and a cute sheep wall decal but I don't think the appliqued lamb crib quilt that was part of the bedding collection is available any longer.
I hope that you enjoyed the pictures of our
lamb baby nursery
and that you will stop by to see more of my nursery photos!