JUNGLE BABY NURSERY THEME SAFARI NURSERY WALL MURAL IDEAS
MONKEYS, LIONS, GIRAFFES
and
ELEPHANTS!
by April
(Tampa, FL)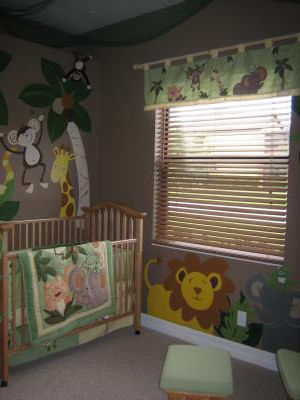 JUNGLE BABY NURSERY THEME with a SAFARI NURSERY WALL MURAL incl MONKEYS, LIONS, GIRAFFES and ELEPHANTS!
The plans for my jungle baby nursery theme began to take shape when I fell in love with a set of Nojo Jungle crib bedding; it was just that easy! To paint this playful jungle nursery wall mural, I photographed and printed samples of my African Safari crib bedding and taped them to the wall to use as a pattern.


Go Here to See More
I used chalk to trace the outlines of the pictures and when I had them in place it was very easy to fill in the monkeys,
palm trees
and giraffes.
I drew the easy stuff like palm trees and other designs that were not so complex free hand.
All of the characters that I used in the painting including the lions, elephants and monkeys were based on the jungle critters in the fabric of the baby bedding set. This wall mural would work for zoo themes as well as tropical rainforest rooms and you would not have to have the same crib set that I have for it to work.
Decorating the jungle baby room was so much fun that I found myself addicted to the process and that I couldn't force myself to stop painting and drawing more and more graphics on the
nursery walls
.
I just love our
jungle baby nursery theme
and can't wait for baby to arrive!