John Deere Nursery Ideas
by Sheila
(Winder GA)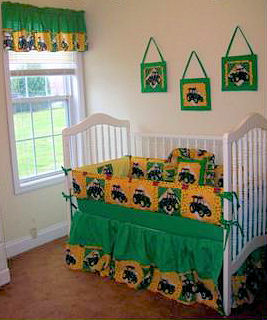 In this picture you will see cute John Deere nursery ideas featuring wall hangings behind the crib and the classic yellow and green John Deere color scheme (
pink John Deere nursery ideas
here) that was used for the crib set and accessories in this baby's room were inspired by the Heartland fabric of the baby bedding set.
There are many patterns available featuring tractors in combination with plaid prints and various colors but the mom that ordered this set and took these
baby boy nursery pictures
wanted a traditional
farm nursery theme
in vintage colors.
There were two separate fabrics that were chosen for this John Deere crib set. The first was from Heartland materials and then a Kelly solid fabric.
Handmade John Deere Nursery Décor Ideas
The tractor designs worked perfectly as the centerpiece for throw pillows with ruffles made from a fabric with a patchwork print.
The tractor themed accent pillows would be lovely in a green nursery rocking chair.
Go here to see more
John Deere baby stuff that can be used to decorate your baby's room. Amazon
Items that I sewed that went with this collection include:
A Baby Blanket
A John Deere Tractor Themed Bumper Pad
A Crib Skirt with Ruffles
A Fitted Crib Sheet
An Accent Pillow
2 John Deere Nursery Window Valances that measured 15x42
The nursery wall hangings are easy to make if you choose a similar fabric for your crib set. Cut out your pieces with a tract unique baby gear ideas or in the center of each, add a layer of batting and backing and stitch them together. Add a bright green or yellow ribbon to use as a hanger and you will have matching artwork to match the crib set.
If you don't want to make your own baby bedding set and would like for me to sew one for you, the cost will be somewhere in the neighborhood of $275.00 depending on current prices for the fabric by the yard and notions.
If you see another one of my homemade crib sets on
Unique Baby Gear Ideas
just email me using the comments form and tell me the one that you like and we can get started on your set.