Irish Baby Gifts Ideas for a Saint Patrick's Day Shower Gift Basket
Do you need some ideas for Irish baby gifts? If the shower invitation you got in the mail has pictures of shamrocks printed on the front of the card or or if the date of the event is Saint Patrick's day; consider it a clue that your friend would appreciate baby gifts with an Irish theme. More and more families are embracing their ancestry and are decorating their homes with items that honor their heritage.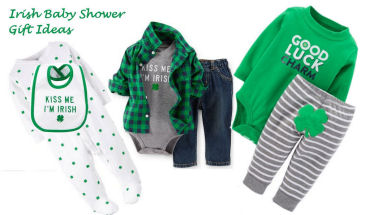 Go here to see more
St. Patrick's Day baby clothes and gifts.
Here are some baby items that you might want to tuck into a specialized Irish baby gift basket for the shower or christening or baptism ceremony:
Irish shamrock baby blankets – A handmade baby quilt with green shamrocks appliquéd on the squares would make a wonderful keepsake, but an inexpensive fleece blanket would be just as cute and easy to keep clean
Irish baby clothes - A tiny Irish flat cap and linen romper for a baby boy or an Irish lace christening bonnet and gown for a girl
Sterling silver baby piggy banks in shamrock shape or that are engraved with a Celtic cross or other design
Shamrock Jewelry – A bangle bracelet or necklace in silver or gold will be something to keep for babies in future generations
Personalized Irish baby gifts or keepsakes engraved with a Celtic blessing or your baby's name
Not every country on earth has a distinct culture with its own line of merchandise like Ireland, but stay tuned. Manufacturers seeking to maintain a trendy product line pay close attention to home decorating trends and baby items sporting unique national flags, logos and motifs will certainly be popping up in stores and online.
If this is your first time to shop for baby gifts, you should take a moment to acquaint yourself with some of the classic Irish symbols that are so popular. Irish or Celtic symbols are not only the stuff of myths and legends. These beautiful designs are lovely to behold and make wonderful decorations for any area of the home. Four leaf clovers are well-suited for baby clothing and gifts and are often printed on baby bibs or onesies. You can also find Irish theme baby items with leprechauns in traditional emerald green in the stores especially in the spring around the St. Patrick's Day holiday. If you have lots of Irish friends or family members, a clever way to have lots of Irish baby gifts on hand is to shop in March around Saint Patrick's Day. Irish themed novelties and gift items start to appear on the store's shelves in early spring and are often discounted immediately following the holiday parades. This would be an excellent opportunity to buy baby presents at a cheap price for the following Christmas or the birth of the next Irish infant in your life!
If you make your own St. Patrick's Day baby gifts, please upload pictures of your projects so visitors to Unique Baby Gear Ideas can see and enjoy them.