Homemade Down on the Farm John Deere Crib Bedding for a Baby Boy
by Sheila
(Winder Ga USA)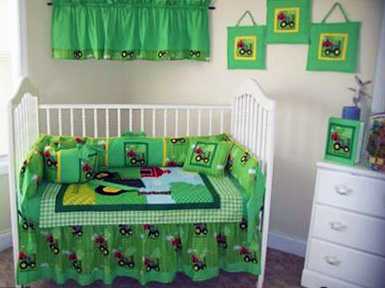 The homemade Down on the Farm John Deere crib bedding set that you see in the picture of the nursery above is one that I made myself to fill a custom order for an expectant mother decorating a tractor theme nursery for a boy.
This mom was dedicated to getting exactly what she wanted for her son's room including a set of high quality bedding in colors that reflected the colors of the iconic brand that is so well-loved by farm families everywhere.
The colors of this collection feature a colorful mix of classic John Deere Green and yellow. The patterns include a repeating tractor print as well as a gingham check fabric that serves as a border for the crib quilt.
Nursery Decorating Ideas
These sets and colors, both pink and brown and yellow and green John Deere collections, lend themselves nicely to many decorating styles. Parents with boys may not be interested in the pink sets but many parents expecting girls have used the classic John Deere green sets in their projects as it is considered gender neutral.
I will be happy to sew whatever you need and offer advice as to which fabrics work best. I have been sewing for the public for years and have developed an eye for color combinations that may be helpful to you if this is your first nursery decorating project.
Please contact me via the comment form provided by
Unique Baby Gear Ideas
to get more information, ask questions or to send orders for custom baby bedding sets for girls and boys.