Hearts n Flowers Pink and White Baby Nursery Ideas
by AKC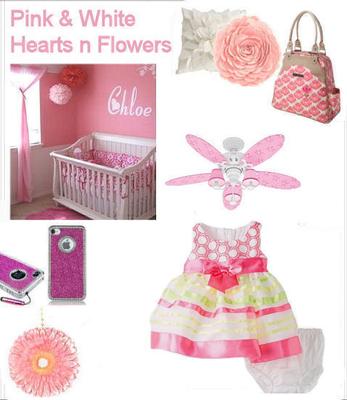 Inspiration and Decorating Ideas Board for a Hearts n Flowers Pink and White Baby Girl Nursery Room Theme
This is the start of my hearts n flowers pink and white baby nursery ideas that I am putting together to have the room ready by the time my daughter arrives. The "heart" part of the theme is introduced via the font of the custom nursery wall decal.


The crib bedding set will take care of the floral aspects of my design.



The flowers in the fabric's pattern plays into the theme and determines the color scheme of the space.
Here is a shopping resource list for everything on the design board for your princess' nursery:
Go Here to See More
Lanterns and Hanging Paper Pom Poms for the nursery
Personalized nursery wall decal
Round and Square Eva's Flower Garden Pillows
White and Pink Nursery Ceiling Fan
Floral Gerber Daisy Ceiling Fan Pull Chain
Hot Pink Bling Cell Phone Cover for Mom
Bonnie Newborn Multi Ribbon Stripe Dress for a newborn baby girl
The Flower Petal Pillows
I like the combination of the shapes of the square and round flower petal pillows as well as the contrasting pink and white colors.
Pink and White Baby Girl Princess Nursery Theme
They come in all colors as well as floral genre including a hydrangea pillow. They are relatively inexpensive to buy ready-made but if you want to make your own felt flower pillow using fabric you have on hand; here are the instructions.
There is also a free tutorial with instructions on how to design a felt flower pillow
here
that shows how easy it is to draw the petals.
The Ceiling Fan
I like to include ceiling fans in all of my designs for several reasons:
1. circulating the air in the baby's room may help to prevent SIDS
2. they save mom and dad money on electricity while keeping the nursery comfortable
Those are pretty powerful reasons to buy a ceiling fan for the kids' room! Another reason I like them is that they are so cute and the blades can be painted over and over again to first reflect the selected
baby nursery themes
and later on to complement the color scheme of the bedroom.
I hope that you like my baby girl's nursery and that you will visit
Unique Baby Gear Ideas
when you have decorated your little one's room to share your own pictures.