Gray and Pink Nursery Decor
by Karen
(Madison Heights VA)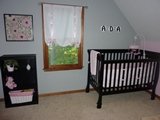 Love the gray and pink nursery decor.
I chose gray and pink nursery decor for my baby girl after seeing so many nurseries decorated in pink and brown on this and other websites.


I believe that that this color combination will be just as pretty and more to my taste than others that are currently trending.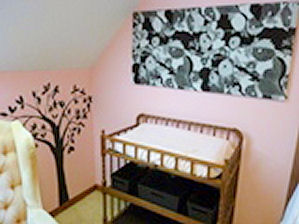 Go here to see more
When I designed my first baby girl's nursery, I disliked the idea of decorating with pink to the degree that everything in her room and all of the clothes that she wore were in gender neutral colors like yellow, green or brown.
When I learned that this time around I was having a girl, I thought that I would use more pink and have things a little more "girlie" for her.
Gray and Pink Baby Girl Nursery Pictures and Decor
The fabric in the black frame on the wall of the room that you see in the nursery pictures was the inspiration for the color scheme of the room. It is from the Keepsake Calico collection available at JoAnne Fabrics and when I found it, I fell in love with it.
WALL PAINT COLORS
The pink and gray wall paint colors are from Valspar. The gray color is called Cement and the pink color is Sweety Pie.
THE PAINTED TREE MURAL
I loved the idea of having a tree wall mural but there wasn't room in my nursery budget to buy large tree wall decals. My fix for this was to find a picture of a tree wall mural that I liked and paint it myself using black acrylic paint for a total cost of 50 cents!
PAINTED POLKA DOTS
I loved the idea of having my baby girl's name displayed on the nursery wall framed with polka dots. Confident after my success in painting the tree mural, I simply bought white acrylic paint and painted the polka dots on the nursery walls. Then, I bought black letters to spell the baby's name at AC Moore crafts store for $2.50 for each letter.
ARTWORK
The wall art that is hanging over the baby's changing table is more Keepsake Calico that came from JoAnne's. It matches the fabric that I used to reupholstere the pillows that I had in my guest room. They were made by stapling the fabric to a blank canvas that I had in my basement. The total cost for all of the fabric was only $8!
I got another idea for an art project to put the finishing touches on my baby girl's gray and pink nursery decor using black frames that I already had and photos. The sign that says "Our Little Miracle" was made using a scrap piece of 2X6 wood that my husband had leftover from building our desk. I painted the signs with the acrylic paint I had bought for other projects and used a white satin ribbon that I had saved off of a baby gift to hang the pictures.
NURSERY CURTAINS
The window treatment is homemade from fabric that I had leftover from my daughter's room. I just pinned it, sewed it and added a pink ribbon that I had bought at the craft store for less than $4! VOILA another frugal
nursery idea
!
NURSERY FURNITURE ON A BUDGET
I knew I really needed a black crib to match the inspiration fabric that I found. So, I looked on Craigslist for a while and found a beautiful black crib for $50.
PINK and GRAY BABY BEDDING
I bought a pink,Super Soft crib bumper from Carter's on E-bay for $6 and bought a used crib mobile from the Amy Coe Collection that came from Target.
Our baby girl's feminine gray and pink nursery evolved slowly over the course of a few months since I made so much of the nursery decorations myself and worked on it at a slow pace.
I love the way Ada's nursery turned out and now even my husband loves the pink room! Maybe this has more to do with the fact that I decorated the room for such a cheap price than a change in taste but who cares; our baby girl's pink nursery is beautiful and I hope that
Unique Baby Gear Ideas
' have enjoyed the tour of our project.