FuzziBunz One Size Cloth Diaper Review
by Jan
My objective is to approach the FuzziBunz One Size cloth diaper review from several perspectives. Being an old pro at diapering babies, I consider my opinion to have merit (if I do say so myself) but I am going to also look at this brand as a mother-to-be trying to make a decision on whether or not cloth diapering is the route she wants to take and from the viewpoint of a new mother just learning how to diaper her baby with a cloth diaper.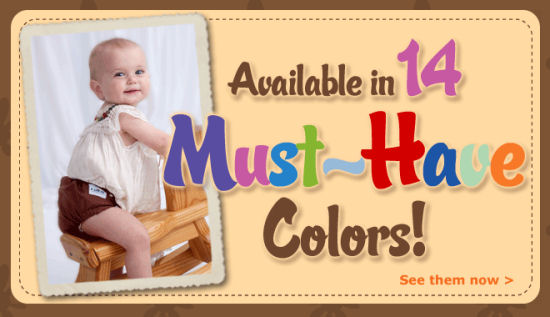 That may not sound like much of a challenge, but I think it's important to try and consider those of you who may not yet have the ability to hang onto a toddler with one hand and diaper a squirming newborn with the other in a black, dark convenience store bathroom. Yep, I'm really sad that they don't give awards for that because I would be at the top of my class!
The FuzziBunz One Size Cloth Diaper Review
COLORS
FuzziBunz not only sent me a One Size Pocket diaper to try but one of their hanging diaper pails. To be honest the color of the diaper they sent didn't knock me out nor did the color of the diaper pail but I checked and they have lots of beautiful colors to choose from if you actually BUY (or in this case WIN) their diapers so whether or not I like the color of the freebies they sent me does not apply. I give FuzziBunz a high rating for having lots of choices.
PERFORMANCE
As far as the performance of the diaper is concerned; any cloth diaper that can handle an overnight shift with my oldest without leaking gets a BIG thumb's up from me! Getting free cloth diapers to try is one of the (few) perks of my job but I can easily see myself buying more of these diaper in one of their many pretty colors for my stash. I apologize if I seem shallow and color obsessed but I just can't help but lust after the purple diaper and hanging diaper pail that would be adorable on my girls although I've heard that other moms prefer neutral colors that don't show through the baby's clothes.
HOW DO THEY FIT?
The FuzziBunz One Size Pocket Diaper has a nice, trim fit that looks nice underneath a baby's outfit and it is comfortable. I know this because I haven't found it lying in the floor when it should be on the baby's bottom. This is a sure sign that it's not irritating, uncomfortable or doing a poor job of keeping the wetness away from the baby's bottom. And the soft fleece lining around the leg openings keeps the diaper from making ugly red marks on the baby's legs. In fact, it would be lovely if the fleece lined the waist too!
FUZZIBUNZ ONE SIZE DIAPER FEATURES THAT I LOVE
If you have read any of my other cloth diaper reviews, you probably know what I look for and here is how the diaper that I got for the FuzziBunz One Size Cloth Diaper Review rates.
1. The insert did a great job of soaking up all that my heavy wetter threw at it. The fleece lining kept the moisture away from the baby's very sensitive skin and pads the leg openings very nicely!
2. This is a VERY adjustable diaper. I don't have a teeny tiny baby (The FuzziBunz® One Size adjust to fit babies 7-35 pounds) to try it on but the leg casings adjust to 8+ button settings and the waist adjusts to 4+ button settings which lets me know you would be able to use them through a broad range of growth.
3. All those snaps and elastic will be good for the long haul. The snaps are said to hold up over 3 years of use and if the button-adjusted elastic wears out, it can easily be replaced in a jiffy with no sewing required! This is a good thing since my sewing skills leave much to be desired.
The FuzziBunz Hanging Diaper Pail Review
I suppose I should have titled the
FuzziBunz One Size cloth diaper review and giveaway
to include the diaper pail, right? Anyway, right off the bat I'm going to recommend that you should have two of the diaper pails so that you have one to use while the other is in the laundry.
One of my favorite things about the hanging diaper pail is that it doesn't take up precious floor space since it hangs on the door knob and that you don't have to reach in and get the diapers to dump them in the washing machine. When it's time to do the laundry, just unzip the bottom and the diapers tumble right into the washing machine with no handling required. For that matter, when it's empty you can toss the FuzziBunz Hanging Diaper Pail in the machine with the diapers and wash them at the same time! And unlike other diaper pails that become obsolete when baby is potty trained I plant to convert this hanging diaper pail into a hanging laundry bag.
I hope that I have convinced you that it would be nice to enter FuzziBunz One Size cloth diaper review and giveaway to win one FREE FuzziBunz diaper and hanging pail.
As your
MANDATORY ENTRY
you must LIKE
Fuzzibunz
on Facebook AND
LIKE
Unique Baby Nursery Decorating Ideas
on Facebook, leave a post on both walls and leave your username in your comment.
Bonus Entries:
1. Visit our
baby gear reviews
channel on Youtube and either subscribe to our channel or leave a comment on one of the videos and return to tell us for
10 bonus entries
2. Follow
msbaby
on Twitter and tweet: Check out the FuzziBunz Cloth Diaper review and giveaway hosted by @msbaby – Enter to win here: https://www.unique-baby-gear-ideas.com/free-baby-stuff.html shorten url and leave a comment . You can tweet the personalized gifts giveaway DAILY and leave a comment each time.
3. Enter other contests in addition to the Fuzzibunz One Size Pocket Diaper review and giveaway for a chance to win
FREE Baby Stuff
like free diapers, baby gear or gifts for kids and moms! (1 entry for each contest you enter)
4.
5 ENTRIES
– Blog about the FuzziBunz review and giveaway linking to this page and provide a link to your post. (Post FIVE separate comments for this!)
5.
10 ENTRIES
Enjoy the photos in our nursery picture gallery that have been entered in our
BABY NURSERY PICTURES CONTEST
and vote for your favorite in the comments section then tell me where I can find your vote for 10 entries and be sure to tell the moms which of their
nursery decorating ideas
is your favorite.
6. Add Unique Baby Nursery Ideas' button on your sidebar or resource page (if it's already there, let me know (don't put it on a page where nobody will see it) and post the link to your blog in your comment (2 separate entries) using THIS CODE:
https://www.unique-baby-gear-ideas.com/images/ubgibutton.jpg
7. Add a link to my
baby blog
(using my URL), with a link back to pick up
(10 bonus entries)
.
8. Post a link to
Baby Shower Decorating Ideas
blog on your sidebar or your resource page (using the provided URL), with a link back to me for
(10 more entries)
9. Become a GFC follower of
Unique Baby Shower Ideas
and let me know your user name for verification purposes. (5 bonus entries)
The FuzziBunz One Size Cloth Diaper Review and Giveaway will end on Wednesday October 5, 2011 and is open to residents of the United States only (void where prohibited by law).
The winner of the one size FuzziBunz Diaper and Hanging Diaper Pail will be contacted via email and will have 48 hours to confirm before a new winner is chosen.
Thanks to
FuzziBunz
for their sponsorship and for the one size pocket diaper and hanging diaper pail that they sent me to review!
There is No Purchase Necessary to enter to win the FuzziBunz One Size Cloth Diaper Review and Giveaway contest or any of the other freebies I have posted and I received no compensation for my review or opinions.