Free Knitting Pattern for a Baby Poncho with a Hood
Hooded Baby Poncho with Pom Poms

This free knitting pattern for a baby poncho with a hood has the most adorable pom poms.  The hooded baby poncho also has a sweet, little pointed top where you can add yet another pom pom in addition to the ones on the ties if you so choose. 

The original, vintage knit baby pattern suggested that the project be completed using 10 ounces of yarn in baby blue but I envision knitting the cape using a beautiful, deep red..so red that it might double as a baby girl's Little Red Riding Hood Halloween costume.
The pointed hood and the optional embroidery give the outfit a vintage storybook style that would very little beyond a basket filled with goodies to complete the costume. After Trick or Treat is over, the poncho take the place of a light jacket when the temps are just a bit too cool to be out and about without an extra layer. An added bonus is that a cape is less restrictive than a sweater.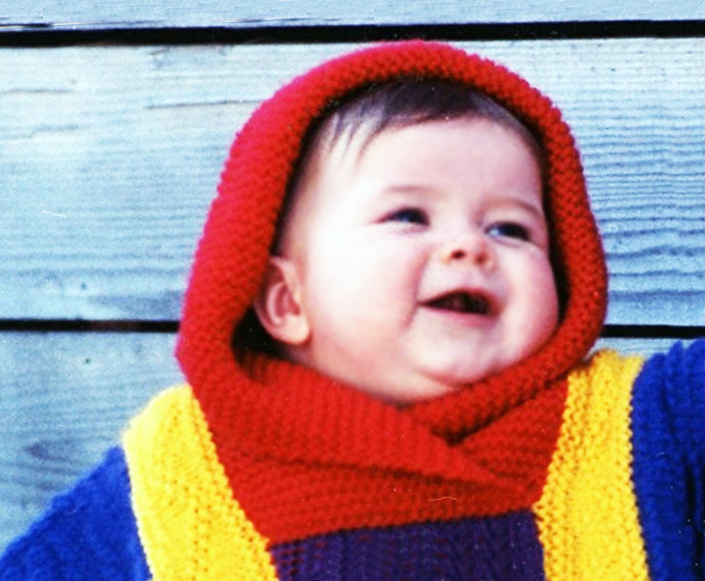 Go here to find
more baby poncho patterns and baby and bulky knit yarns for your project.
This knitted baby poncho has a Gauge of 6 sts to 1 inch and requires 1 pair of American Standard No. 2 knitting needs and one 1 Circular knitting needle in size number 4.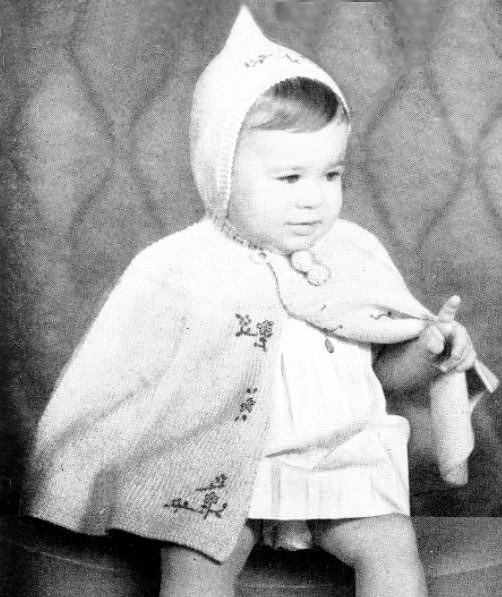 You will note in this free knitting pattern for a baby poncho with a hood that the instructions indicate that a "ball filled with cotton" should be at the end of the ties.
If you prefer, you might instead attach two pom poms as I did in this
hooded crochet baby bunting pattern
. Looking closely at the photo of the finished project above, it seems that pom poms are pictured and not what the pattern calls for. Some parents have mentioned that their child pulled bits of yarn loose and put them in their mouths which is dangerous. I, personally, did not have that problem. Use your own judgement to choose which finish you feel is safer and/or more attractive for your project.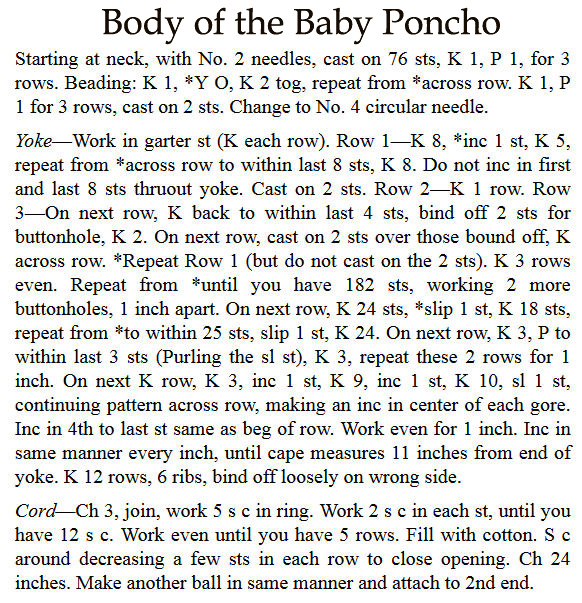 I hope that everyone has enjoyed this tutorial and that you will visit
Unique Baby Gear Ideas
' feature page to share photos of your baby's knitted poncho. If you see an error in the directions or would like to make a yarn suggestion, please send us a message and we will add it to this page.