Football Themed Baby Nursery Decor Ideas
by Jan
Are you ready for football season? If so, you will love these football themed baby nursery decor ideas including an original wall mural by one of our favorite artists! Sit tight, sports fans, and get ready for the kickoff!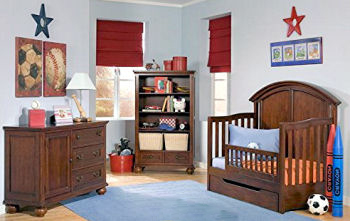 Sports Baby Bedding
The first purchase for this very popular baby boy
nursery theme
is usually the crib set with the primary consideration being color and style. For example, some parents might prefer a vintage football nursery theme rather than a modern one or even to have a set custom made using fabric featuring their team's logo.
After the nursery's color scheme is determined, it's time to pick the wall paint color using the fabric of the crib set to get a good match.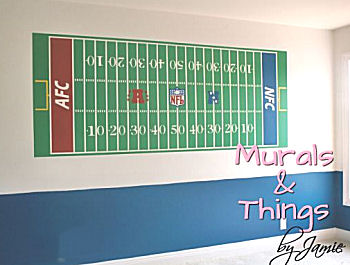 Then it's time to add interest to the wall. Some parents paint, hire an artist (like Jamie of Murals and Things by Jamie that painted this one) to paint a mural or have a company that specializes in
nursery wall stickers
to design something personalized with their baby's name.
Those of us who can't paint or afford to hire an artist can use decals with football motifs to create a focal point for the baby's room.
The wall is a great place to display sports memorabilia and artwork but space challenged moms and dads will not want to miss out on additional nursery storage and organization possibilities.
A wall shelf will give dad a place to put trophies from his glory days on the football field on display.
The Nursery Rug
The floor holds many possibilities for
football themed baby nursery decor ideas
from the installation of wall to wall indoor/outdoor green astroturf floor covering that, as you might imagine, would be spectacularly baby and stain-proof to a football shaped or rectangular area rug to accent the area in front of the baby's crib or the nursery rocker.
There are many sports nursery decorating tips that can be adapted to a strictly football nursery in
Unique Baby Gear Ideas
picture galleries. Please take a moment to browse before you start to decorate!