Favorite NAME COMBINATIONS Taken from the 2012 Most Popular Names List
by JB
The list of most popular names for babies in 2012 just won't cut it with southern mothers. Moms from south of the Mason Dixon Line aren't (usually) happy shouting out a single name; we love our double names.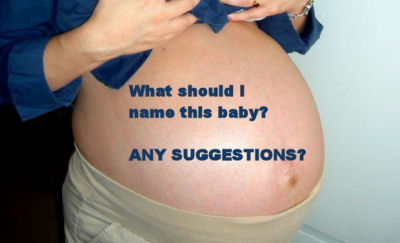 I thought that (just for fun) we could work on creating double name combinations using
only
the names on the most popular 2012 baby names list and come up with some new
double southern baby names
!
I came up with several nice combinations using the top five most popular baby girl names on the Social Security Administration list: Sophia, Emma, Isabella, Olivia and Ava as well as the most popular names for boys: Jacob, Mason, Ethan, Noah and William.
To make it interesting I also put together a few using the "up and coming" male and female names on the list.
Fast Rising Names for Girls
Fast rising? Seriously? Is anybody else craving a biscuit made with Martha White self-rising flour right now?
Ok, the top five most popular, fastest rising baby names for girls last year were Arya, Perla, Catalina, Elisa and Raelyn and the winners in this category for boys would be: Major, Gael, Jase, Messiah and Brantley.
To give us even more choices, here's the complete list with MY favorite combinations to the side:
Top female baby names in 2012
1. Sophia (Sophia Isabella)
2. Emma
3. Isabella (Isabella Mia)
4. Olivia (Madison Olivia)
5. Ava (Ava Abigail)
6. Emily (Emily Arya)
7. Abigail (Raelynn Abigail)
8. Mia (Mia Rosalie)
9. Madison (Madison Briella)
10. Elizabeth (Elizabeth Catalina)
—
Top baby names for boys
1. Jacob (Jacob Liam)
2. Mason (Jase Mason)
3. Ethan (Major Ethan)
4. Noah (Alexander Noah)
5. William (William Jayden)
6. Liam (Michael Maverick) A great choice for fans of old "shoot em up Westerns!
7. Jayden (Jayden Gael)
8. Michael (Michael Brantley)
9. Alexander (Alexander King)
10. Aiden (Rory Aiden)
—
Baby names for girls in 2012 that are moving to the top of the list FAST!
1. Arya
2. Perla
3. Catalina
4. Elisa
5. Raelynn
6. Rosalie
7. Haven
8. Raelyn
9. Briella
10. Marilyn
—
Names for baby boys that are becoming popular FAST!
1. Major
2. Gael
3. Jase
4. Messiah
5. Brantley
6. Iker
7. King
8. Rory
9. Ari
10. Maverick
Please feel free to add your own favorites to
Unique Baby Gear Ideas
' favorite
baby name combinations taken from the 2012 most popular names list
.