Fairy Baby Nursery Wall Decorating Ideas for Stickers and Decals
On this page we have enchanting fairy baby nursery wall decorating ideas for fairy stickers and decals.  There are choices for a baby girl as well as for a boy that will help moms make a lovely arrangement on a focal wall. 

Those of you that are well into your nursery decorating project most likely have come to the conclusion that painting and decorating the baby's walls are rather expensive.
Those of you that are just entering the planning stage may be interested to know that decals or stickers may make painting completely unnecessary should there just be a few nicks or scratches on an otherwise acceptable wall.
Should a paint color change be unavoidable, decals, stickers or stencils can still be a wonderful tool.
Fairy murals
created using these techniques will save money, valuable time and serve as a decorative complement to framed
fairy art
.
Fairy Baby Nursery Decorating Ideas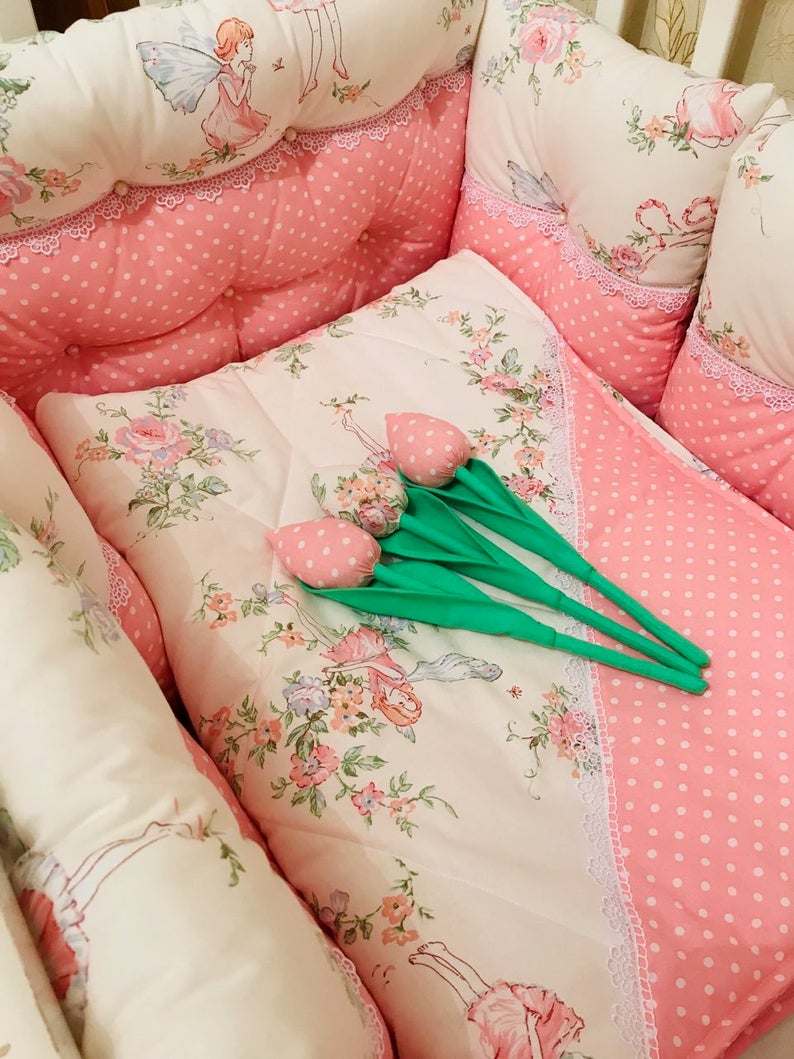 Go here to see more
styles that are available for your fairy baby nursery decorating project.
There are free stencil patterns that can be used to create an enchanted garden fairy scene complete with a crescent moon and stars.
A fairy sitting on the moon surrounded by stars would be lovely on the wall behind the baby's crib. Since these stickers are silhouettes; you can have them custom made in any color.
What an excellent way to add a fanciful touch to the scenery so that it will be coordinated with your
fairy baby crib bedding sets
. A few enchanted fairy decals and wall decorations tucked in among the forest creatures, butterflies and ladybugs will add interest to any
baby girl's nursery theme
.
Remember that fairy wallies are removable and can be rearranged with ease. The easy stick adhesives make these fairy wall decorations very easy to use.
Flower fairy wallies blend well with creatures of the forest as well as elements of fantasy wall scenes that include:
Peter Pan and Tinkerbell
Dragonflies
Butterflies
Unicorns
Fairy tale nursery themes are so popular, and fairy wallpaper border or fairy wallies wallpaper cut outs will provide an elegant background for whimsical decorating ideas. Their personalities make for a lighthearted and cheerful atmosphere where you will enjoy spending time reading storybooks to your child.
The fairies with their gossamer wings can be repeated with a voluminous white gauzy canopy draped over the headboard of the bed or baby's crib. Your fairy wall mural as a background will give a 3D effect to the bedroom. Vintage botanical prints or Flower Fairy Prints are cool fairy wall decorations for the nursery walls or fairy princess decor for an older girl's themed room.
Here are some excellent ideas on how to paint and decorate the walls in your daughter's fairy bedroom to compliment your wallies. You will need to coordinate your wall paint colors with your bedding set and fairy wallies and I would like to suggest that you consider shades of pink, yellow, lavender or purple. These are all cool colors that will accent your fairy wallies, decals and cutouts beautifully. There are certain shades of periwinkle blue that will work, but why not save blue for boys rooms, when the other colors that I mentioned or much more unique and eye-catching.
I would like to insert a word of caution here. Nursery wall stickers are an excellent decorating tool that bring thoughts of gossamer wings, satin bows and a shelf full of fine collectible fairy figurines, but use your wallies sparingly. With the Enchanted Flower Fairies you get 25 fairy wallies and stickers in the set! You don't want your visitors to feel that have walked into a sticker gallery. A pretty little enchanted flower fairy here and there will be all that you need for a delightful fairy room theme. Don't cover the walls with pictures of fairies! Fairy wallies work best when used sparingly.
Please return to
Unique Baby Gear Ideas
to find more fairy baby nursery wall decorating tips shared by our visitors.