Elegant Modern Nursery Decor
by Jennifer Grutzius
(Chicago Illinois USA)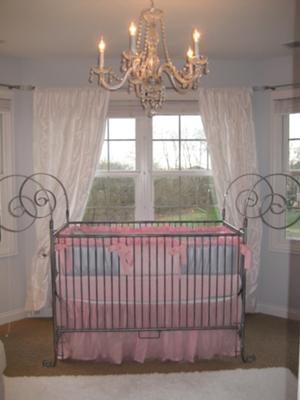 Our Baby Girl's Pink and Gray Nursery is a Picture of Modern Enchanted Elegance
The challenge in decorating our baby's elegant modern nursery decor was that what I came up with had to be gender neutral because we didn't know the sex of the baby.


SEE MORE HERE
From the beginning my decorative inspiration was the Restoration Hardware baby catalog. My husband and I have a modern home and contemporary taste and we loved the gray paint that was used in so many of the nursery examples in their catalog. So, that's where everything that you see in the pictures began.
ELEGANT MODERN NURSERY DECOR RESOURCES
We found the baby's amazing crib and changing table that were from Bratt Décor. The nursery rocker is from Buy BUy Baby. It is designed to lean back like a lazy boy recliner and it is VERY comfy. We found the mirror that we used for the wall at Z gallery and we found the the mirrored side table at Target.
We bought the solid white Nicole Miller nursery curtains from Bed Bath and Beyond. The white area rug came from IKEA. Miscellaneous decorations and accent pieces for the baby's elegant, modern nursery decor like the silver chest and picture frames came from Homegoods and Z Gallery.
I had the baby bedding set custom made at a business in NY called Modern Pea Pod. I chose both a custom made set of baby bedding for a boy AND a crib set for a baby girl and had my OB/GYN inform Modern Pea Pod whether they should make the bedding that I had selected for a boy or girl. It took about 6-8 weeks for them to get it ready and then they shipped it to us just before the baby was born. To keep the baby's gender a secret, we kept it in the box and never opened it!
The nursery's paint is eco-friendly, non toxic paint that has no VOC's that came from Restoration Hardware Baby. It was more expensive than other paint, but worth every penny to keep harmful fumes out of our baby's room. And last of all, but one of the most elegant pieces in this elegant
pink nursery
is the chandelier that I found online.
WALL DECOR
I made the lamp and the wall crown that you see in the pictures myself. I bought the supplies from Hobby Lobby and used my hot glue gun to attach the boa feathers and rhinestones to the top of the lamp shade. I bought the crown and painted it with silver metallic spray paint and then attached the yards of tulle fabric that I draped to frame the nursery rocker.
My husband and I loved creating our baby's elegant modern nursery decor together. We had such fun in the two months that we worked on it. I hope the viewers that visit here looking for modern
baby nursery ideas
like our baby's room as much as we do!
From the webmaster:
Thanks so much for sharing your nursery pictures with us, Jennifer! I was impressed that you shopped at such a wide variety of vendors and yet managed for everything to fit together so beautifully. You may have gotten your initial inspiration from Restoration Hardware Baby, but this is no "copy cat" nursery and I know our visitors will love it!