Best Dragonfly Baby Bedding and Nursery Decorating Ideas
Each season that rolls around brings a new selection of dragonfly baby bedding providing an opportunity to add yet another color scheme to our portfolio of decorating ideas for this natural style of nursery. What started as a few crib bedding sets in neutral colors quickly expanded to include shades of purple and pink as well as collections in sage green and brown.



Visitors Shopping for Dragonfly Crib Bedding Sets Also Enjoyed these Pages:

Dragonfly Pictures

Dragonfly Baby Nursery Theme Ideas

Dragonfly Nursery Wall Art

Dragonfly baby crib bedding sets featured in the Dragonfly dreams bedding collection with dragonflies appliqued on the bumper and the crib quilt are perfect for a baby girl's nursery that is indeed, all girl. There is a musical dragonfly baby mobile as well as the window valance, the diaper stacker and nursery clothes hamper that matches the very feminine nursery bedding set.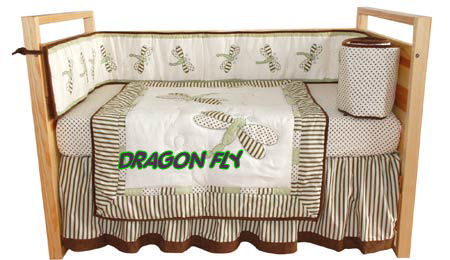 SEE MORE HERE
WHAT'S IN A NAME?
One tip I want to share is that you should not be misguided by some of the names that designers have chosen for crib bedding with a dragonfly theme. For instance, Tiny Red Dragon is not Asian crib bedding as the name may imply. The collection is actually a set of dragonflies and ladybugs nursery bedding that combines two of our favorite bugs giving us decorating opportunities to work touches of red into our nursery's color scheme. There are also a few crib sets with fabrics that feature dragonflies and butterflies. The results? A unique and one of a kind dragonfly baby bedding that allows you to let your imagination run free to in creating your own personalized unique and diversified nursery decor.
Bringing the outdoors inside is a popular idea no matter the season or time of year. Dragonflies are one of the more popular natural inhabitants of a baby nursery theme at this time. While there are dragonfly baby bedding sets geared toward putting together a complete room full of dragonflies, there's no need to restrict these beautiful creatures to any one decor.
Whether you drift towards the whimsical or the fine art version of dragonfly baby bedding sets, there's plenty to choose from. I recommend blending several themes to prevent going theme "blind"!
If you have a Ladybug Theme in mind, take some ideas from our dragonfly theme and combine the two!
Here are some other nursery themes where dragonflies, butterflies and ladybugs would feel right at home:
A Garden Bunny Nursery Theme
A Little Pond Frogs,Lilypad or Jeremy Fisher Nursery Theme
A Turtle Nursery Theme
Butterfly Garden or Butterflies Baby Theme
You get the picture, any decor taken from nature can be enhanced with a set of dragonfly baby bedding.
Dragonfly baby bedding sets are the perfect gender neutral or unisex set for a baby boy or a baby girl's nursery. Most come with all of the decorative accessories like matching dragonfly crib mobiles, upholstered rocking chairs, wallpaper borders and coordinating designer fabric that you can purchase by the yard for your sewing and craft projects. Are you having some problems matching your dragonfly baby bedding set with other dragonfly accessories? Dragonfly lighting is one of the more versatile dragonfly baby items that will contribute to the room design without an exact match to the bedding. If you have a set of dragonfly and ladybug crib bedding consider a ladybug themed lamp instead of the traditional tiffany style dragonfly lamp. You can also expand your visual space with an airy nursery wall mural to match your dragonfly baby bedding. Create a bright sunny garden with dragonflies and all of their winged insect friends flitting about. Let them light and rest their gossamer wings on the silk flowers that you've attached to the nursery wall with baby safe glue for a unique 3D wall decoration.
One way to create a custom wall mural if you have absolutely no artistic ability is to paint an easy background then detail the scenery by using stickers, wallies or wall paper cut outs. Some possibilities would include various insects that co-exist naturally with dragonflies in the garden and props such as quaint cottages, restful garden benches and picket fences. These handy little decals and stickies add so much detail and charm to any nursery decor and they are so cheap! Here's a tip to make your nursery wall decorations even more interesting! Get some glow in the dark paint and dot a few little lightning bugs! That will be a treat for your baby's little eyes when the nursery lights are dimmed. Some of the crib sets come with their own handy sponge painting kits. That's a super easy way to get a luxury designer look without having to do much research. The best nursery paint colors for girls and boys and instructional pictures for your decorating purpose are already worked out for you in advance.
You don't have to spend big bucks on luxury baby cribs and accessories to get a custom look anymore! Dragonflies are a really hip baby theme right now, so if you have a special love for that particular garden variety bug don't wait! Chances are you can even find a matching dragonfly diaper bag to go with your dragonfly baby bedding! Are you planning a baby shower for a mom who has chosen a dragonfly nursery theme? If so, there are printable dragonfly baby shower invitations available online that will tickle her pink!
For your window treatments matching dragonfly curtains and valances ready for hanging are available. How handy! If you have a few tools and a handy woodworking husband, make your own wooden dragonfly curtain rods with free online home woodworking plans and instructions!
The time is right for bringing the outdoors inside. Your baby's bedroom is an excellent place to start!
To see more dragonfly crib bedding sets and baby nursery ideas, please visit our nursery photo gallery that contains many pictures of beautifully decorated baby girl nurseries that are sure to inspire the DIY decorator.