Baby Dragon Murals and Nursery Wall Art
If tales of medieval times are your bag these dragon murals are for you. Whether you are a scholar that knows the difference in a Japanese dragon from a Chinese dragon or just a fan of ancient tales of sea serpents and shipwrecks there's something to love about the dragon art in this baby's Dragon Tales nursery.



Visitors Interested in Dragon Wall Murals for a Baby's Nursery Also Enjoyed these Pages:


Dragon Nursery Theme

Dragon Art



Nevermind the nightmares, giant lizards have also made their way into children's bedrooms. No doubt the fear has been taken out of these mythical monsters through Dragon Tales, the popular cartoon for kids, that tells stories of a fantasy world filled with sweet, dragons in pastel colors that wouldn't harm a fly, much less a baby.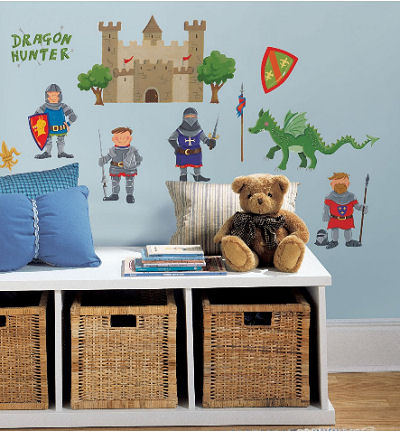 The popular television show, Dragon Tales, is the inspiration for this baby's room where the walls have been covered with dragon murals shown in the pics on this page.
The cool thing about this wall mural is that not only do we have dragons but the details in the scenery that surrounds them is very appealing and not just to fans of dark, gothic dragon art or the king of dragon loved so dearly by his friend, Tommy, in the popular children's tale, Puff the Magic Dragon.





CREATING a DRAGON WALL MURAL
You can paint your own dragons as well as the background or hire it done, but chances are when you compare the time spent and the price of paint, paint brushes and other supplies (not to mention the mess that
YOU
would be left to clean up!) or the cost of hiring a custom mural artist to do the job, the price of a mural created using dragon decals will start to look really cheap.
An added bonus of using stickers is that you might reduce the price of the project even more by creating focal points rather than covering the entire wall with paint or wallpaper.


With clever planning and design, your dragon murals can look fresh and stylish for many years. The trick is to choose a style that can grow with your children. Don't paint yourself into a decorative corner by painting a couple of Chinese dragon paintings unless you are certain that you will want an Asian theme for the duration.

The artist that painted this dragon mural was very ambitious as well as talented. It takes a lot of time and effort to paint all of the bedroom walls from ceiling to floor in graphics with this kind of detail. It seems a shame to cover any part of it with furniture, doesn't it?
A few points of interest in the dragon mural would be:
The fat mushrooms in funky colors surrounding the wishing well that's obviously being guarded and protected by a red, fire breathing dragon that just happens to be flying by.
The leafy dragon or sea serpent with weedy trails flying from its head that would actually be a pretty great background for an underwater or tropical fish theme.
Once you view the pictures of the dragon murals in the nursery on this page you, I'm sure that you will begin to imagine many dragon baby nursery ideas and possibilities for a dragon nursery theme with many opportunities to display a variety of baby dragon pictures for a nursery.