Dr Seuss Nursery Theme - The Seussary
by Jeremy
(Moncton, NB, Canada)
We made the decision when we found out that we were having a baby boy that we wanted a theme that has stood the test of time! A Dr. Seuss nursery theme.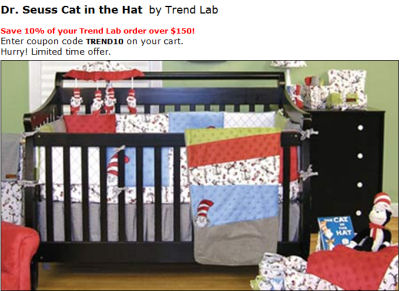 Go Here to See More
Getting started, I brought in one of my favorite Dr. Seuss books to my local paint store and asked them to match up the blue color from the illustrations in the storybook.
After the room was painted, I painted characters on the walls and got some funky
Dr. Seuss wall decals
and decorative accents.
After painting the walls, we had a lady that we know make a Cat in the Hat baby quilt for the crib. Then we painted some "giant book covers" and used an old dresser that we painted black to match the crib.
We brought the entire
Dr Seuss nursery theme
together in just 4 short days, just in time to be ready for our little boy, Anthony's, arrival!