Dr Seuss Nursery Decorating Ideas for a Shared Nursery
by Hallie
After spending months looking for Dr Seuss nursery decorating ideas for a shared nursery that will be occupied by my soon-to-be-born baby boy and my toddler son about to celebrate his second birthday I thought that I would post my ideas to help other mommies-to-be in similar circumstances.

I chose the "One Fish Two Fish Red Fish Blue Fish" Seuss nursery theme rather than some of the other nursery themes for twins that I had considered because I feel this theme will last longer. This is very important since I'm decorating a room for a newborn and a toddler.



Go Here to See More
I painted the nursery walls a neutral shade of yellow and applied some really cute
Dr Seuss stickers
.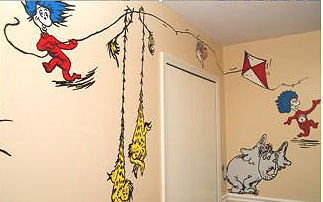 Dr Seuss One Fish Two Fish Red Fish Blue Fish Theme Nursery Wall Mural
I used baby blue as the primary accent color on the "baby" side of the room with just enough red to stay within the theme. On the "toddler" side of the room I used lots of red including a bright red bedding set with no "baby Seuss" print fabrics for our big boy.
We arranged a clock in an arrangement of large wall decals on this size of the room. One of the characters appears to be holding the clock in his hand! It's really cute!
Then, I decided I had bought enough ready made decorations.
I thought I would make my own polka dot lamp shade. I took a plain, white lamp shade decorated it with polka dots in coordinating colors.
It was so easy to do and it turned out great! Since I already had the paint on hand; I made my own custom lamp shade without spending a dollar!
I hope that you can use some of my
Dr Seuss nursery decorating ideas for a shared nursery
. I wanted to pass them forward since I got so many of my own decorating ideas from pictures sent in by other mothers to
Unique Baby Gear Ideas
.