DIY Step Aside Cinderella There's a New Princess in Town Baby Onesie Outfit
by Liz
A Step Aside Cinderella There's a New Princess in Town outfit is one of the cutest baby shower gifts that I saw at a baby shower that I attended this weekend.

I asked around until I learned which guest gave it to the mom-to-be so that I could get the details as to where she bought it.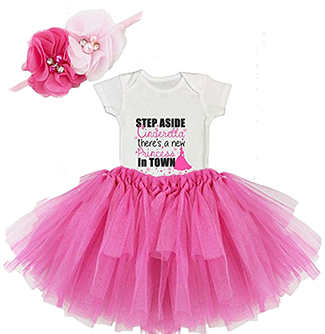 Go here to buy
the items you need to make your own DIY "New Princess in Town" outfit for your baby girl.
It turned out that she bought the outfit on Etsy for a price that seemed a little, well, pricey to me. Not that I am cheap or anything but I like to get lots of "bang" for my buck.
Did I go straight to the craft store, buy a Cricut (or whatever kind of gadget crafters are using to cut out stuff to decorate onesies with at the moment) machine, yards and yards of ribbon, tulle and silk flowers? Oh, no. No, indeed my friends; I did not.
What I did do was go online determined to duplicate this outfit for a better price without spending a lot of time.
How Did I Pull It Off
I found a onesie with the saying already stamped on it for $11.99. Not dirt cheap but not bad either. Then I found a
baby ballet tutu
and headband set for $3.99. I put the whole outfit together for $16.00! That's not the most thrifty baby gift I've ever put together and you might say it's not homemade but it cost less than half of what the other (read: less thrifty) lady at the shower paid for hers and it looks adorable!
Next Time
I am going to
crochet a baby tutu
and headband using some leftover yarn for the next outfit. That will justify my calling this project DIY and knock the price down even more!
Thanks to
Unique Baby Gear Ideas
for recommending the crochet pattern that I will use.