New Contemporary Baby Bedding Sets for the Modern Nursery
Many modern nursery designs call for contemporary baby bedding in bright, stylish colors and patterns often giving a casual nod to traditional themes and prints but often with a twist. Rather than featuring baby ducks, teddy bears and bunnies many times these crib sets, at first glance, seem to be tiny versions of the duvet set in the master bedroom.



The results have been fabrics with a wonderful mix of prints and colors in themes that have proven themselves to be winners in the past as well as bold graphics using polka dots and broad stripes, geometric prints scattered with circles and squares for parents who want sleek, simple designs.


An uncomplicated color scheme and sleek, sophisticated neutral design that can be used for a baby boy or girl's nursery reflects the taste of busy parents that prefer low maintenance decor.
Modern Baby Girl Bedding
Modern Baby Nursery Ideas
SMALL Modern Nursery Ideas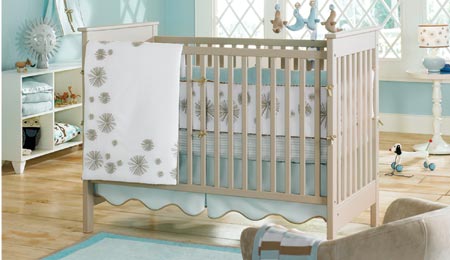 PINWHEEL by MIGI
SEE MORE HERE
For an easier transition into modern nursery bedding there are what I have come to call the modern, hybrid crib bedding sets. The idea is that if mom wants her baby girl's nursery theme in a modern floral design, she can have flowers except they won't be the traditional variety; they will be much more likely to be splashed about in large, funky colors combined with dots, spirals or stripes than luxury bedding of the past with prints of dainty birds, leaves and vines.
Custom,
contemporary baby bedding sets
are popping up everywhere in baby boutiques. These collections are targeting the modern mom that wants to test the waters in cutting edge baby nursery design yet still want their nursery to be cute and not have a cold, industrial feel.
Nursery bedding sets with this look are filling a niche market of urban, apartment dwellers who don't have much room for elaborate, complicated styles of decor in their scaled down homes. The clean lines and layering of fashionable neutral colors have gained in popularity due to necessity as well as taste.
In trying to keep a seamless flow from room to room there's a need to leave lacy elegance behind for a more streamlined look. Compact, efficient nursery furnishings make a small bedroom look more spacious while still providing all the necessities so far as storage and safety are concerned. Contemporary baby bedding sets are just following the trendy look and feel of the room where a traditional look might be out of place.
There's still demand for the traditional styles and there's been an effort to brighten and modernize classic baby nursery themes so that they have managed to keep pace and maintain their positions for the time being. However, I see more and more nurseries shrinking in size rather than the opposite. As downsizing seems to be the driving force behind contemporary baby bedding and nursery furnishings I expect the trend towards modernization to continue in the world of nursery bedding.
Make plans to visit Unique Baby Gear Ideas again soon to see the latest contemporary nursery decorating styles and pictures that are sure to make decorating baby's first room much easier and more fun!