Best Blue and Brown Bedding For the Baby's Nursery
Modern blue and brown bedding sets have proven to be a winner as a color combination for either girls or boys. Today's nursery designs are breaking the rules and you are just as like to see blue accents in a baby girl's nursery as pink. There are many moms who raise an eyebrow at the mention of their daughter's nursery being decorated with blue rather than more feminine colors.



Visitors Shopping for Brown Baby Bedding Sets Also Enjoyed these Pages:

NEW! Brown Baby Bedding Sets

Pink and Brown Baby Bedding for Girls

Blue and Brown Nursery Ideas for Boys




Blush pink and brown in the baby's nursery has proven to be a very popular color combination for girls' rooms. And and popular as decorating with pastel and hot pink and brown has been, decorating with teal or turquoise blue and brown is not lagging far behind.





BLUE AND BROWN BABY QUILTS AND BLANKETS
If your baby blue and brown bedding set doesn't include a patchwork quilt or crib comforter, there are lovely chocolate brown and blue toile fabrics that will coordinate with most any bedding collection that can be used to make your own patchwork baby quilt.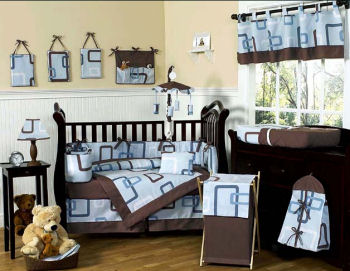 SEE MORE HERE
Blue and brown bedding sets don't have to look country, rustic or hunting cabin style, they can actually have an edgy modern urban look. And of course, a handmade, tied patchwork baby quilt would be super in a baby boy's nursery theme.
FABRIC
And the fabrics are just as cute as the color schemes of the brown bedding sets. For cool weather, textured materials take the place over airy fabrics. Once soft, plush chenille and micro suede fabrics became easy care, the rush use them in baby bedding collections was on.
Here are some nursery decorating ideas for your blue and brown crib bedding set:
Baby Crib Quilt
Choose a baby crib quilt or comforter with a field of deep chocolate brown with a pieced patchwork border. This will lay out a pattern of stripes in chocolate brown, camel or caramel and powdery blue.
The Bumper
The crib bumper can continue the striped or pieced pattern used on the crib quilt with an added decorative piping in blue along the upper edge of your blue and brown bedding set.
Baby Crib Sheets
The matching crib sheets can also be constructed of micro suede! What a soft, comfortable baby sheet that could be.
Window Valances
Carry the colors of your brown and blue bedding set to the nursery windows. The top of the nursery window valance is made of the darker brown fabric, the border can be made out of the alternating camel, brown and blue striped fabrics.
Crib skirt
The dust ruffle or crib skirt repeats the pattern found in the other decorations with the addition of piping in the seams.
Diaper Stacker
The decorative diaper stacker is from the light blue fabric using deep, rich brown and camel accents.
Toy Bag
What a cute addition to a baby bedding collection. Storage is something every nursery needs and this handy fabric bin can hold toys, baby products or stuffed animals. It's easy to mount with the ties that are sewn in. This accessory is in camel with pockets made of fabrics to match the blue and brown bedding set. The fluffy, decorative cushions will be very comfortable in the nursery rocking chair.
Paint your baby's nursery walls to coordinate with your blue and brown bedding
Here are some suggestions for painting nursery walls.
DARK BROWN PAINT COLOR POSSIBILITIES
Benjamin Moore Mink 2112-10 V8LV-FRJL-DAMW
or
Ralph Lauren Paints - VM79 Cargo Brown 2GDK-URCL-D6E1
or
Sherwin Williams SW 2049 Window Box - 3JC7-HPQ4-CJP1
Return to find more brown baby nursery ideas with pictures of rooms decorated for babies in brown and blue.