The Best Play Yard for Travel with Babies and Toddlers on Our List of the Top Rated 5

The best play yard for travel with babies and toddlers placed second on our list of this year's list of the top 5. According to reviews the Lotus portable baby play yard functions exceptionally well as a travel crib.

The price gap between it and our top pick is wide and this item has not been around as the one that took first place but the Lotus has some very attractive features that moms appreciate.
Unique Baby Gear Ideas feels that this model is appreciated and rated highly by parents because it is easy to carry and set up and feels safer to use for infants as it lacks a fabric border that might present a danger to infants unable to hold their heads up yet.
Why the Lotus is our pick for second place on our best play yard
list.
Description and features of the Lotus Baby Playard and Travel Crib
The Lotus is a very lightweight and functional play yard that features a unique side zip door and has quickly built a reputation of folding into a small package easy to carry when traveling with a child.
Go here to learn how to save money on a baby play yard when flying.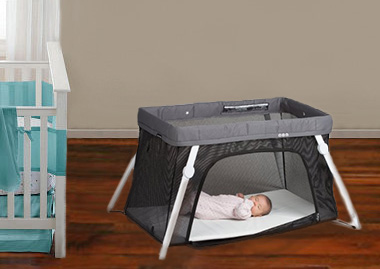 Go here to see
sheets, mattress pads and accessories available and to read more comments as to the pros and cons of the Lotus according to moms.
We think that this is one of the best play yards for babies because:
while our top pick for best play yard sets up in one minute or less, this one sets up in a fraction of a minute, just 15 seconds.
it folds into a backpack (which we know dads love to tote) leaving both hands free to carry baby, luggage or a diaper bag.
it is 16 CFR 1221 + ASTM F406-13A certified with no Phthalates, lead or flame retardants.
the zippered side door gives parents yet another means of access to a sleeping child.
the company's customer service gets rave reviews which is assuring should you run into problems or have a question about use or assembly which if you are a klutz at assembly and following instructions like me that is always the case.
Even the best play yard may have drawbacks and even though the majority of parents give Guava Family's Lotus 5 stars across the board there are a few complaints:
Parents are not happy that the a sheet is not included and has to be purchased separately.
Some feel that the play yard's mattress or pad should be thicker although most parents prefer the thinner pad as they feel it is safer for sleeping infants.
The velcro straps that secure the mattress and sheet (note that some moms think that the tabs are a wonderful safety feature) are a pain to thread through the base
that it has a chemical smell as does the top-rated playard that is in first place on our list.
Our Advice and Opinions on the Lotus
Unique Baby Gear Ideas believes that the odor of vinyl is a temporary problem that is common with many products and should quickly go away. We also think that the thin pad even though it is not as cushy as some and the velcro tabs that will test your flexibility are excellent safety features that help to keep our babies safe when they are sleeping.
Final Thoughts
The Lotus costs more than our first place winner but due to the fact that it converts into a backpack makes it the best play yard on our list for travel. The convertible backpack straps are included with purchase but sadly a sheet is not.
Please take the time to compare the features, pros and cons of the top 5 best play yards for babies on
Unique Baby Gear Ideas
to choose the best for your lifestyle and the age of your child.