Beatrix Potter Nursery Murals
by Jan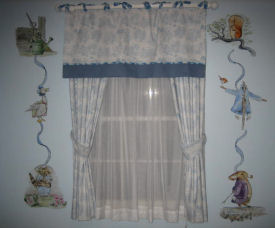 One of my friends shared these pictures of Beatrix Potter nursery murals that she had painted and I thought that others might enjoy the paintings.
The photos are so amazing and depict the bunny rabbits and other characters so beautifully.
It's so easy to peel and stick wallies and decals that not many moms take the time or have the artistic talent to paint their own Peter Cottontail, Flopsy and Mopsy wall art.
Go here to see more
I can't make a decision as to whether the pictures of the bunnies in the painting or paintings of Jeremy Fisher and Jemima Puddleduck are my favorites. Or as in the case with this room, it may be the combination of the two that make a Beatrix Potter nursery so charming.