Baby Snoopy Theme Nursery Decorating Ideas and Crib Bedding Sets
I set out from the start saying that Baby Snoopy stuff that my brother had from when he was little would be the inspiration for decorating the nursery for the newest addition to our little family. The biggest decision that would have to be made would be which Snoopy baby bedding set would look the best with all of the Snoopy baby stuff he had packed in those boxes. Thinking we might add some stickers or paint some artwork on or for the wall or just frame and hang some pictures of the Peanuts and the gang; this was going to be an easy room to design.



Snoopy and the Red Baron play a part in this baby boy's airplane nursery design with its bright red wall shelves and blue denim accents.



And then I remembered a picture of a Snoopy baby nursery that a mom-to-be uploaded that combined a stars and moon design with a Red Baron theme that featured Woodstock. There were pale blue stars contrasting with the dark wall paint as well as bright primary colors in a hand painted Baby Snoopy mural. Plus, there was the dog house with the puppy dog celebrity sitting right there on top where he is engaged in a chat with Woodstock perched on the moon painted closer to the ceiling. That's when my EASY project got complicated and yeah, more fun.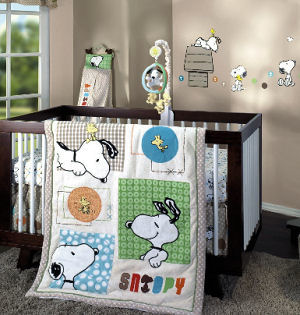 Go Here to See More
I love the way that the characters appear to be just hanging out at the head of the baby boy's crib. There are so many cute DIY features in this room that I not seen used in other Baby Snoopy nursery themes.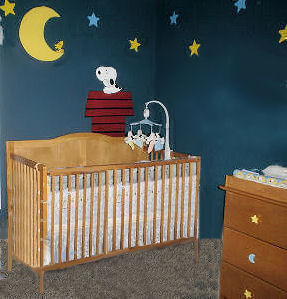 Snoopy Nursery Bedding
Check out the way that the moon and stars from the nursery wall mural have been carried over to the baby's dresser with the painted drawer pulls. This decorative technique can transform any piece of furniture from a plain wooden piece to an amazing piece that will fit right into any nursery decor.
See how well the Snoopy baby bedding set, window treatment and nursery wall mural merged with moon and star motifs. I really like the blending of the two, don't you?
The homemade patchwork quilt on the nursery rocker and a black and white puppy dog mobile add just the right finishing touches to this baby boy's nursery!
We appreciate our visitors that share their nursery pictures with us! Return to Unique Baby Gear Ideas to see more original nursery designs in your favorite cartoon characters.
SHARE IDEAS - PICTURES of BABY SNOOPY NURSERY THEMES
Do you have a great set of baby bedding or a picture of a nursery that you decorated in a Snoopy theme? Share it!