Baby Boy Airplane Nursery Design Ideas
Snoopy Themed Baby Room Decor

This baby boy airplane nursery design is a soaring success!  The iron crib and baby airplane decor complement each other so perfectly right down to the metal toy chest that will help mom to keep the room organized in days to come.

Baby B is too tiny at the moment to appreciate his lovely surroundings. He is just nine days old at the time of his first photo shoot but there will be many pleasant hours spent here with mom and dad where they have decorated in a theme that clearly demonstrates their love of aircraft and aviation.
The bright red, grey and navy blue combination inspired by the geometric pattern of the baby bedding set provides a bright pop of color against a neutral wall paint color.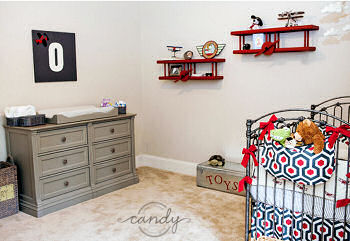 Go here to see more
amazing airplane themed items for kids' rooms.
The red found in the fabric of the crib set is reflected in the unique airplane themed shelves on the nursery wall.
The nearby cloud
crib mobile
in combination with the planes seems to create a three dimensional mural.
Look closely and you will see well-loved Peanuts character, Baby Snoopy, serving as pilot of the plane. The Red Baron is surrounded by a display of vintage airplanes and decorations in similar
baby nursery themes for boys
.
The bright red nursery rocking chair that is tucked into a bright spot near the window.
The accent pillows, one made from fabric leftover from the crib set that inspired the colors of this sweet baby boy airplane nursery, as well as the charcoal ottoman will make mom and dad's time spent snuggling with their son very comfortable.
I love this photo that Candy took as it is the first view that Baby B had of his room.
I hope that visitors of
Unique Baby Gear Ideas
have enjoyed the pictures and tour of the airplane themed nursery that Candy photographed so beautifully and kindly agreed to share with all of you. I also hope that moms and dads who have an appreciation for vintage planes have picked up some tips on decorating an aviation themed room for your son or daughter. This room holds some excellent decorating ideas that can be adapted to your taste. The features of this room should give it a spot in your design portfolio whether your interest is in modern aircraft or antique WWII planes.
Speaking of which, I hope that you will stop back by and upload pictures of your baby's room when you are done so that others can see how you chose to put your collection of model planes or flying collectibles on display in your project. Thanks to
newborn baby photographer, Candy Howard
for sharing pictures of this beautiful nursery design with our visitors.