Baby Shower Favors and Supplies
by Jan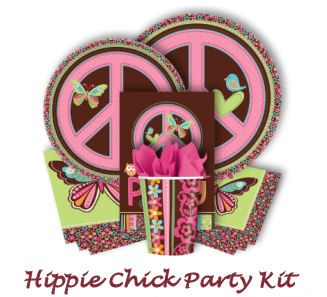 Pink, Lime Green Brown and Aqua Blue Hippie Chick Birthday Party and Baby Shower Supplies, Tableware and Party Favors with Colorful Butterflies, Peace Signs, Baby Owl and Bird Theme Decorations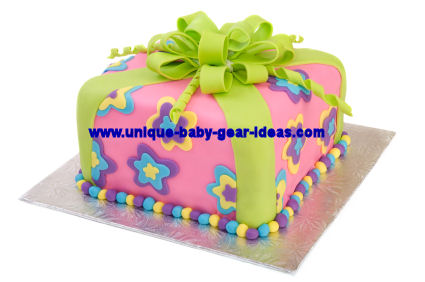 I would like to show you the baby shower favors and supplies available at discountpartysupplies.com that you can use as inspiration for many different baby shower themes and color schemes AND to give you a chance to win some FREE party supplies and decorations of your own in our giveaway that you can learn more about after the review.
The Hippie Chick party decorations and tableware that you see here came from www. discountPartySupplies.com and I selected this particular party kit for several reasons. The color of the supplies and decorations are, purple, aqua blue and lime green. The layout is bright, cheerful and the graphics included in the kit are unique and versatile! Take a look at the cute lime green and purple birthday party cake that I plan to make to go with the party kit in the picture above. Doesn't it just shout FLOWER POWER? And the design of the products are so flexible!
Take for instance the colorful luncheon napkins. The large butterfly design makes them suitable for a little girl's butterfly birthday party or butterfly baby shower theme. If decorating your party with butterflies isn't what you had in mind, perhaps working with a color scheme of bright lime green and purple and playing down the floral and butterfly graphics would be more your taste.
In addition to bright colors and flowers and butterflies, when I saw the Hippie Chick party decorations I was pleased to notice that the shapes of the decorative candles in the kit would allow me to get lots of mileage out of these supplies. After my daughter's birthday party is over I could use the baby shower favors and supplies for a:
1. a "Baby Birdy" baby shower. The bluebird and butterfly candles would be cute on a cake at a baby girl's shower next spring.
2. a "Little Hoot Owl" baby shower. I could use the orange owl shaped candle as inspiration for a baby boy (omitting the girly supplies) or a baby girl's shower for fall decorating in earthy colors of autumn leaves.
Those are just a few birthday party and baby shower ideas beyond using the Hippie chick party supplies as the manufacturer intended; for a Hippie theme party.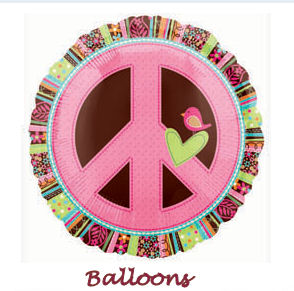 Balloons, Baby Shower Favors and Supplies
Balloons are a great way to lead your guests to where the action is! To help everyone find your party easily attach a helium filled Mylar balloon to street signs along the route to your baby shower venue with an arrangement of the Mylar balloons that came with the plates and napkins attached to the mailbox at the street as well as on each side of the entrance to the party! By the time your guests arrive they will be in a festive mood and ready to play games and have fun!
In addition to the cute centerpiece that is part of the collection, I plan to decorate the doors using vintage psychedelic music posters (Iron Butterfly Inna Gadda Davida) from the 1960s and black light peace sign posters . For lighting I will surround the table centerpieces with as many lava lamps as I can beg or borrow. To set the mood, there will be music from the 60s playing in the background.

Baby Shower Favors and Supplies
To show our appreciation to our guests for sharing the day, there will be favor boxes for each little girl filled with a hippie headband, peace sign pencils and a hippie chick hat as keepsakes. That's the only thing that I wish this collection had; baby shower favors and supplies in addition to the girl's birthday party favors.
That would be so nice, but I can make do by making some of my own party favors or filling the favor boxes with mementos according to the party's colors. And when the celebration is over, the thank you notes are designed so that the hostess can insert whatever wording she likes, either a thank you for attending a baby shower or a girl's birthday party.
The bottom line is that I feel really good about recommending the Hippie Chick party collection as well as discountpartysupplies.com for your next celebration. In my experience I found this company to fill and ship orders in a very timely and efficient manner which is very important since I tend to change my mind and either want more stuff or to forget to order something that I desperately need for my parties. And I do throw a LOT of baby showers and kids' birthday parties! In fact, to see more of my nursery and
baby nursery ideas
I hope that you will be a frequent visitor to my website!
The Giveaway
But now for the details of the

As your MANDATORY ENTRY you must visit www.discountpartysupplies.com and return to tell me which of their party kits that you would like to buy with your $50 credit AND you must LIKE
Unique Baby Nursery Decorating Ideas
on FB and post on my wall leaving your username in your comment/entry or it WILL NOT COUNT.
For Extra Entries:
1. Check out our
Baby Gear Reviews
videos on Youtube and become a subscriber OR leave a comment on your favorite and return to tell us for
10 bonus entries
2. Become a Twitter follower of
msbaby
on Twitter and tweet: Check out the FREE kids birthday party or baby shower supplies giveaway hosted by @msbaby – Enter to win here: https://www.unique-baby-gear-ideas.com/free-baby-stuff.html shorten url and leave a comment. Tweet the discount party supplies giveaway DAILY and leave a comment.
3. Enter an additional contest for a chance to win
FREE Baby Stuff
like free diapers, carriers, etc. or stuff for moms! (1 entry for each contest you enter)
4.
FOR 5 EXTRA ENTRIES
– Blog about the FREE baby shower favors and supplies giveaway linking to this page and provide a link to your post. (You should post FIVE separate comments for this!)
5.
For 10 BONUS ENTRIES
Visit our gallery of pictures featuring the most beautiful decorated nurseries EVER in the
BABY NURSERY PICTURES CONTEST
and
and vote for your favorite in the comments section
then tell me where I can find your vote for 10 additional entries and be sure to tell the moms which of their
baby nursery ideas
is your favorite.
6. Add my funky little button with the pretty, pregnant chick on it to the sidebar of your blog or website (if it's already there, let me know (it won't count if it's on a page where nobody will see it) and post the link to your blog in your comment (2 separate entries) using THIS CODE:
https://www.unique-baby-gear-ideas.com/images/ubgibutton.jpg
7. Link to our
nursery ideas
blog on your blogroll (using my URL), with a link back!
(10 entries)
8. Add a link to
Unique Baby Shower Ideas
blog to your website or blog (using the provided URL), with a link back to me!
(10 entries)
9. Follow
Unique Baby Shower Ideas
in GFC (5 bonus entries)
This
review and giveaway
contest will end on August 30, 2011 and is open to residents of the United States only (void where prohibited by law).
The winner of the $50 gift card will be contacted via email and will have 48 hours to confirm before a new winner is chosen.
Thanks to
Discount Party Supplies
for the sponsorship and freebies they sent me to review!
There is No Purchase Necessary to enter and I received no compensation for my review or opinions.