Baby Nursery with a Subtle Forest Creatures and Owl Theme; DIY Modern with a Touch of Vintage
by Lara
(Austin, TX, USA)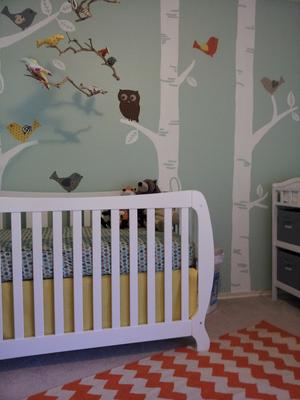 DIY birch tree nursery wall mural hand painted by mom
My ideas for the baby's nursery began with paint color swatches; I had a feel, an impression I wanted to convey in the room's decor and color would play an important role. My goal was for the nursery to feel cheerful, playful, and unique. I wanted my baby to know that his mom put her heart and soul into making his room as artistic, inspirational, and cozy as possible.

I knew early on that I would take a DIY approach towards decorating my baby boy's nursery and that I wanted to make several things in the room to give it a hand-made atmosphere. I planned to blend modern nursery and vintage nursery elements while loosely tying in a combination owl theme and forest creatures theme. However, it was important to me not to be constricted with these themes and that things would not match too much. Another thing I should mention is that this room was created on a budget and whenever possible I reused and recycled items I already had on hand.

The chevron rug was purchased from Urban Outfitters (one of the more modern nursery decorations in the design), the grey fabric storage bins came from Amazon and the acorn pattern fitted crib sheet was bought on Etsy but my husband and I made many of the items that you see in the above nursery pictures ourselves including:


The yellow crib skirt that I made myself.
I painted the birch tree mural on one wall and made wall decals of birds and an owl from fabric. These decorations were inspired by images I saw online.
I bought the changing table secondhand on Craigslist and my husband spray painted it white
I learned to embroider and embroidered the forest animals hanging on the wall above the changing table.
To make the baby mobile, I used branches from my yard and made the birds using a pattern I found online. My husband helped me balance the mobile.
The orange display shelf was using wood that we had by my husband.
I felted the owl on the shelf. I created the vintage vignette on the shelf with items I purchased. The arrangement includes books, deer and old bottles.
The clouds above the shelf were made out of paper mache and painted with gouache. I hung them with some old nails and fun red and white striped baker's twine.
I had painted the gouache sunflower painting just a few months ago and decided to hang it in the nursery.
I hope that you like my
baby boy's nursery pictures
and that you will vote for my nursery pictures to win
Unique Baby Gear Ideas Nursery Photo Contest
!