Modern Nursery Ideas
by Sarah
(Early, IA)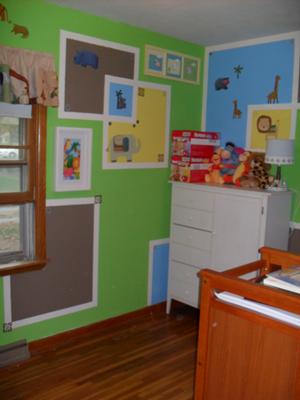 Modern Neutral Animal Theme Baby Nursery Ideas
What would you think if I told you that the modern nursery ideas that you see in the pictures actually came to me in a dream? They did! In the dream that I had, I painted our baby's nursery walls with boxes.


My husband and I agreed that we didn't want to find out the sex of our baby going into the decorating project.



We chose to paint the room with neutral colors using a design that would be flattering for either a baby girl or boy.
Go here to see more
I initially planned to paint all of the walls in a checkered kind of box theme but after I began taping off the walls of the room I realized that the effect was way too boxy. The "box nursery theme" still appealed to me so I just messed around and came up with graphics that are a box inside of a larger box.
After the walls were decorated, I felt that something more was needed. I have always loved the idea of Noah's ark nursery so I added an animal theme to the decor.
From the webmaster:
Sarah, I love the bright, cheerful colors that you used to paint the walls. You chose just the right shades of blue, yellow and green as a background for your painted graphics.
It must have taken you hours and hours to tape off all of the squares. Is this a nursery wall painting technique that you would recommend for a beginner or would you say that it's better suited for painters with advanced skills?
Just one more question, did you use flat wall paint or semi-gloss? If you used semi-gloss, did you have any trouble getting the painter's tape to stick?
Thanks so much for sharing your tips with us and remember to tell your friends to stop by
Unique Baby Gear Ideas
and upload their
baby nursery pictures
to add to our gallery.