Baby Diaper Cake Ideas
Baby Shower Diaper Cake Ideas for Baby Girls and Boys


Our baby diaper cake ideas will help the baby shower hostess that doesn't know a cake pan from a roll of cookie dough to whip up an adorable centerpiece for the gift table in a jiffy!   We have instructions and suggestions for cute themes, 3 tier diaper cakes, tips for folding and shaping Pampers into molded center structures from gift baskets to tricycles.  

Also featured are inedible creations in designs that reflect the most popular baby nursery themes for girls and boys!
There are many variations of the ever popular jungle safari theme and Winnie the Pooh, classic designs depicting baby booties and baby carriages decorated with rattles and teethers as well as more unique diaper cake ideas personalized according to mom or dad's profession or favorite hobbies.
#1 Winnie the Pooh Diaper Cake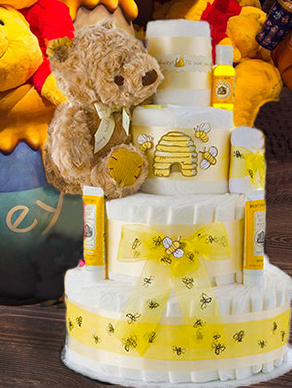 If you have yet to make a decision as to the type or theme of your creation, you might wonder what is "the" most popular cake of all? The answer to that question is a Pooh Bear cake.
Go here to see more
themed baby shower diaper cakes in the Winnie the Pooh theme and more.
This classic character can be styled for a gender neutral shower as well as a party for a baby girl or boy.
#2 Jungle Safari Diaper Cake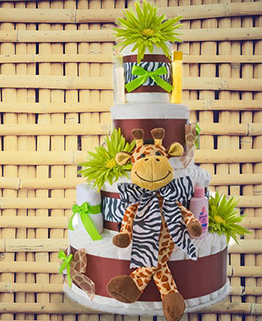 A splash of pink via a travel size bottle of Baby Magic lotion and some zebra print ribbon is all that is needed to change what is otherwise a neutral theme to one that is "all girl".
Remove the container of baby lotion and voila; the diaper cake is once again gender neutral.
#3 Prince or Princess Castle Baby Diaper Cake Ideas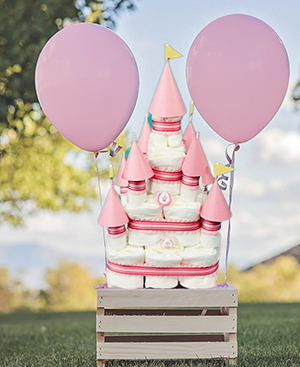 A fairy princess castle baby shower diaper in pink is easy to make, easier than you might think! The supply list includes little more than ribbons, pink card stock and diapers!
Get detailed step by step instructions for making a castle diaper cake here
Surround the cake with pink or gold metallic party balloons and your work is done!
Replace pink ribbons and paper with blue for a Little Prince baby shower.
#4 Ladybug Diaper Cake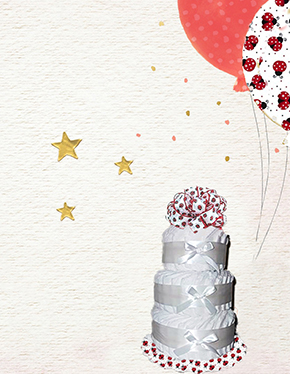 A topper made of ladybug print ribbon in a red, white and black color scheme transform a plain white cake made of cotton diapers.
Cover the disk with ladybug wrapping paper to complete the look.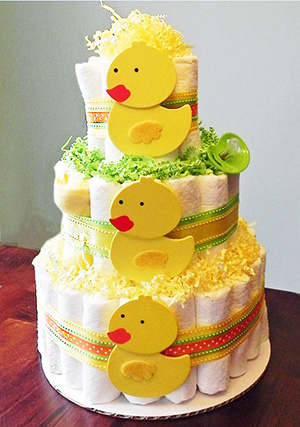 A diaper cake decorated with yellow rubber ducks is a ducky baby shower centerpiece idea.
Ducky Baby Shower Ideas
These are top rated baby diaper cake ideas according to visitors' comments here on
Unique Baby Gear Ideas
. Feel free to experiment with colors and decorations to create your own designs, personalizing them according to your own taste and needs. Please stop by to share your own favorites and pictures of your project when you are finished!