Cute Baby Clothes Hangers for Your Nursery Closet
Cute baby clothes hangers are not just for organizing the outfits in your little one's nursery closet; they are taking a much-deserved spot in the room's decor. If you have visited our gallery of photos you will notice that decorators are including vintage as well as modern clothes as part of the wall decorations.
Parents have finally realized that wooden hangers are too nice (and too expensive?) to be hidden away behind the closed door of the closet. They can be painted over and over to match the color scheme of the room although many prefer the natural color of the wood.
If you're worried about what to do with these small hangers when your little one's clothing outgrows theme; you can recycle them as doll clothes hangers or use them in many crafts projects.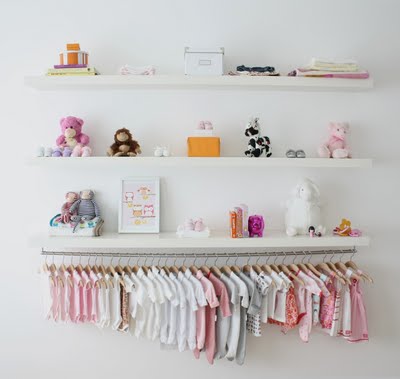 Baby Clothes Hangers
Coat Hangers for Baby Clothes in Themes
For example, in a baby's jungle nursery theme we might see custom
baby clothes hangers
decorated with zebras, lions elephants and panda bears.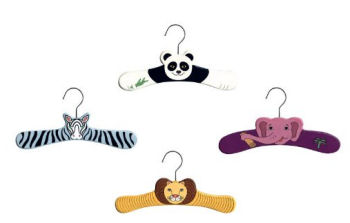 See More Here
In a baby's room decorated with frogs; this froggy hanger would be too cute!
A pair of overalls hung on one of these froggy clothes hangers would be adorable in a baby boy nursery.
There are some nice options available for farm room themes, too.

In a teddy bear nursery; hangers featuring cute brown bears would be ideal.
These yellow duck hangers have a vintage look and would be cute in a gender neutral farming theme nursery.
Ideas for Making Your Own Custom Hangers
You can easily customize wooden hangers if you are unable to find hangers that complement your baby's nursery. For example, you might stencil polka dots on wooden hangers or personalize them with your baby's monogram. For a hunting themed room you might consider making your own DIY wooden hangers with a matching coat rack from tree branches like
these
.
This rack would be so easy to make that even moms (like me) that aren't that great at crafts could manage them. All that's required would be a few coats of polyurethane, a board, some screws and glue. Most home supply stores will cut the board to your required specifications eliminating the need for saws and other equipment that most of us (who don't embrace woodworking as a hobby) won't have on hand.
I hope that your visit to
Unique Baby Gear Ideas
has inspired you to get creative with your baby clothes hangers and that you will consider uploading pictures of them in your closet so that other visitors can see your ideas.