Custom Baby Bib Patterns and Sewing Ideas
If there's any individual piece of baby gear whose charm is underrated it's the baby bib. There are so many cute ways to customize and personalize bibs that it's hard for me to resist the temptation of having matching bibs for every romper, short set and gown. They are so cheap and easy to make that it's really easy to develop an addiction for them so why not enjoy shopping for and making your own stash of bibs for your baby plus a few extra to tuck into a gift basket for a friend.


Free Baby Patterns

Baby Christening Gown Patterns

Free Baby Sewing Patterns


If you are a new mom that likes an uncluttered diaper bag and nursery closet and feel that a cute, personalized bib is an unnecessary bother, I truly believe that I can convince you to join the personalized bib fan club. It's true enough that it's a hassle to keep baby's bib clean and pretty. And there just seems to be no way of avoiding those stains from strained carrots and grape juice.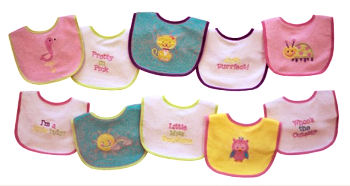 Go Here to See More
Orange stains and dots of purple juice are just all the more reason to build a big inventory so that you have a pretty, stain free bib on hand at all times. Or if you prefer not to take the risk of staining your favorite embroidered bib with baby's name on it, use washable, plastic bibs or disposable bibs during mealtimes that you simply toss after one use.
PERSONALIZED BABY BIB
If you want your baby to have a voice, you can have custom bibs printed with funny sayings or drawings on them. Gifts of matching custom bibs, burp cloths and clothing make wonderful baby gifts. Baby gifts that reflect mom or dad's favorite hobby or profession are always very popular. Here are some ideas for personalized baby bibs
Camouflage baby bibs are super gifts for military babies or for babies whose daddy is into hunting
Monogrammed bibs are nice gifts if baby has already been born and you know what his or her initials are
Coordinate the gift with baby's nursery theme. Example: Ladybug bibs for a baby with a ladybug nursery
EMBROIDERED BIB IDEAS
That homemade touch is hard to beat when it comes to gift ideas. An embroidered baby bib is perhaps one of the more easy items to embroider. Here are some ideas for embroidering your bibs:
NURSING BIBS
Nursing shawls and blankets work well during cool weather, but during the warm summer months many mothers say that nursing bibs are much cooler and more comfortable. They are smaller than a blanket and they have some features that baby blankets don't offer. Nursing bibs have a Velcro strip that attaches them around mom's neck (so that there's less danger of the bib slipping and blowing your cover so to speak) and there's a metal support at the neckline that makes it "tent" over baby allowing some air circulation and the ability to see what's going on beneath. Some come with pockets where you can keep a spare pacifier handy, too. Moms who might otherwise be too modest to breastfeed in public in the summer find that nursing bibs are a lifesaver.
FREE BABY BIB PATTERNS
There are lots of free, printable bib patterns available on the net or that come in the package with many baby clothing patterns, but if you can't find one that suits you I would say that it would be easy enough to draw your own with these easy instructions.
Take a large piece of brown paper, lay your favorite bib on top of it and draw the outline with a half inch or less seam allowance. Some bibs would need to be edged with cloth tape that would be used for the ties, but I prefer bib patterns that have the "ears" or tabs where I can sew my own Velcro.
Using a free baby bib pattern and some cute fabric that you had lying around your homemade, custom bibs will cost less than a dollar or two each. Take it from me, when baby starts teething and the drooling begins those baby bibs will be worth their weight in gold.
Return from Unique Baby Gear Ideas for more baby gift and gear reviews and recommendations.