Australia Nursery Theme Ideas with Baby Koala Bear Crib Mobiles, Bedding and Decor
Here we have ideas for decorating an Australia nursery theme using lots of critters from the "Land Down Under" as decorations.  Choose your favorite animal from the Australian Outback.  Would it be a mama kangaroo with baby Joey peeking out of her pouch can lounge in the corner or a sweet baby koala bear making nice with a happy kookaburra filling your Aussie baby nursery room with fun and laughter?

Imagine a mural painting on the wall featuring an Australian green tree frog singing his song while perched high in an Australian gum tree.
Those are just a few of the possibilities for this unique and different room theme.
Australia, like so many countries, has its own atmosphere and many say its own state of mind. On this page we will explore the options for conveying the personality of the area and attitude in a child's room through the use of carefully picked accessories and decorations that highlight the many charms of this vast country.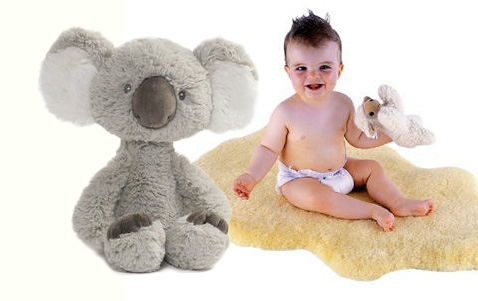 This might include a large, plush
baby koala bear and a soft, sheepskin rug
all of which fit perfectly with Aussie baby nursery design.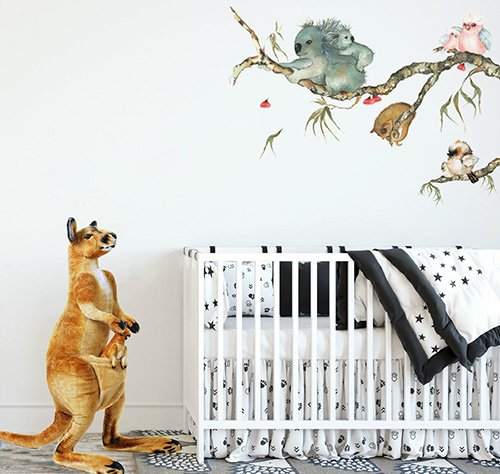 Go here to see
life-size mama and baby joey kangaroos and koala bears that your little one will adore and check out the Aussie themed wall decorations at
Bush Babies Down Under
.
Before you begin take a moment to think what comes to mind when you take time to picture the Australian landscape in your mind. The lush greenery that you might use in a tropical jungle themed room might work if your idea of an Australian nursery theme focuses on the seaside portion of the country.
A crib quilt with a baby koala bear applique is just the thing for a baby's room in an Australian theme or a bear themed nursery.
A pretty pink or blue set of baby bedding may not be the best inspiration piece. Terra-cotta and sand tones combined with sage green seems to be a better background for our nursery theme.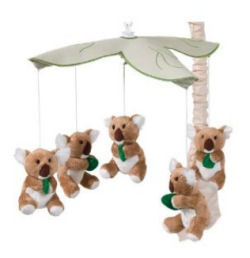 Go here to see
baby koala bears to use as decorations on crib mobiles and more.
If that's the direction that you plan to take, please see decorating ideas and instructions for our beach themed decorating ideas. Surfing is a popular Australian pass time but if you want a true Australian nursery theme for your baby's bedroom I would let my mind travel towards the Outback region for inspiration and guidance in choosing motifs that leave no doubt that this is Australian decor.
You can get themed baby crib bedding for your Australia nursery theme covered lots of Australian animals appliquéd on the crib quilts such as:
Kangaroos and Joeys
Koala bears
Hippopotamus or Hippos
An Australia nursery theme can be an educational as well as a
gender neutral theme
that will teach your little one about the Australian culture at a very early age. The painted walls and decorations can be a teaching tool providing an opportunity to teach your baby the names of many native Australian animals.
A musical mobile with some of the Australian animals we mentioned to decorate the crib is an excellent Australia nursery theme decorating idea and will captivate your baby from very early in life. I promised that baby will enjoy playing with the life-size Australian stuffed animals, too. What a surprise it will be to a curious pre-schooler or toddler to find out what Mama kangaroo has hiding in her pouch!
Browse the nursery pictures gallery on
Unique Baby Gear Ideas
to find more Australian DIY nursery projects and crafts ideas.