Exotic Asian Design Nursery Bedding
Get the best of East meets West using Asian design nursery bedding to create an exotic, oriental baby nursery theme. Forget the days when Asian baby bedding was a red and black affair with touches of gold metallic trim.



Nothing against red and black but I much prefer colorful silk and satin embroidered fabrics similar to that found in kimonos and other Asian garments. The color red represents good luck in the Asian culture so that would account for all of the red you see in pictures of oriental decor but as lucky as it might be, red is not the color of every mom's dream nursery.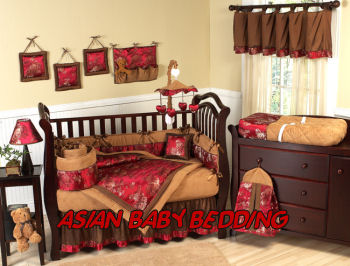 This just goes to show that when it comes to Asian baby bedding you have lots of options. Black and red is not the rule of thumb stylish though it may be. If you want high contrast there are lots of colors and patterns that you can pair with oriental or Asian designs to give Asian decorating a more modern look! Make it FUN! Give it some zip! Asian culture can be as modern, trendy and cool or as peaceful and timeless as a koi pond, but just don't your Asian decor be BORING!
Your Asian design nursery bedding can be as vibrant or as peaceful and subdued as you choose. In one set of Asian design nursery bedding there might be tiny nosegays of spring flowers tied by a pretty bow scattered randomly on a background of snowy white silk. And then in another set of Asian design nursery bedding, a field of blush pink might be covered in twisting branches covered in cherry blossoms.
Red Asian bedding and comforters are so cool with traditional Chinese symbols for good luck printed or embroidered on the fabric in bold contrasts. The embroidery on antique Asian design nursery bedding or bedding sets for adult rooms might be of cut, fire breathing dragons in metallic gold thread. These fabrics are really flashy, but look positively stunning with a set of black baby nursery furniture. A color scheme using antique or vintage Asian fabrics with accents of Peacock blue, coral pink or jade green can be be very successful as well.
You might find modern Asian dragon theme baby nursery bedding sets made of gold or red and black silk or satin but with inserts and pillow shams of soft faux fur or cut velvet. That's what sets modern Asian bedding sets apart from vintage Oriental design; the combination of the old with the new. I believe this style of bedding is called Asian inspired bedding.
Some decorating accessories that you may like for your Asian design nursery bedding would be
Ginger or temple jar lamps
Low maintenance silk potted orchids
Hat boxes covered with Asian newspapers
Imari made into a lamp
Shoji screens painted with Oriental landscapes filled with Oriental children at play
Ideas for painting the walls and an Asian theme room would be to find colors that complement your Asian design nursery bedding in enamel paint. Consider painting one accent wall in a warm gold color again using enamel paint. No matter what color your Asian baby bedding set might be it will benefit from this painting technique and some elegant dragon art prints and posters decorating the walls.
A beautiful black lacquer baby crib and some Asian chests inlaid with mother of pearl for storage will set the stage for a peaceful and subdued Asian nursery theme. In addition to your oriental theme baby decor or Asian design nursery bedding sets and other Asian room decorations, you may want to throw a large stuffed panda bear in the corner. Please visit the other pages in our site for more decorating ideas, baby gear suggestions and homemade craft projects to help you create an exotic, oriental nursery for your baby.
For tips on Oriental or Asian Baby Nursery Themes and Decor check out our list of nurseries with pictures of designs created by do it yourself parents such as yourself.
ASIAN NURSERY PICTURES and DECOR
Do you have a great set of bamboo or Asian theme bedding or a picture of a nursery that you decorated in an Oriental theme? Share it!
ASIAN NURSERY DECORATIONS, PICTURES and DECORATING IDEAS
Click below to see we found!
Floral Themed Nursery

I am so pleased with the outcome of our baby girl's floral themed nursery! As an obsessive who loves DIY crafts projects, I had the time of my life painting …