Antique Shabby Chic Girls Nursery Room
by Amber
(CA)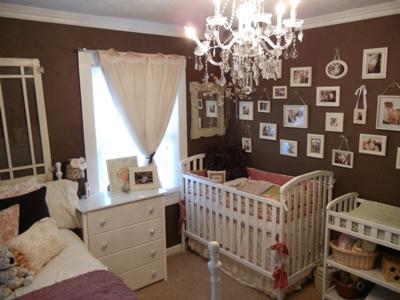 Antique Shabby Chic Girls Nursery Room Design
What inspired your Antique Shabby Chic Girls Nursery Room Design? Was it a picture that you saw in a book, a bedding set or was it your original idea?
Our entire house is decorated in an antique and shabby chic style so I knew I wanted our baby girls' nursery to fit, but be very girly and comfy for two little girls.



We have lots of shabby chic girls nursery ideas that our visitors will love!
What was the brand and/or color of your beautiful dark brown wall paint?
The paint we chose was called "Behr Rich Chocolate Brown".
Go here to see more
items to pair with this elegant, timely decorating style.
How did you decide to decorate the nursery walls?
Rather than doing something that would have a modern look and feel like painted stripes, polka dots or other paint effects I did a picture wall.
Please visit our gallery of pictures that is filled with vintage baby girl nursery ideas before you go!
Where did you find the perfect shabby chic baby crib?
I bought the crib, a dresser and a changing table at a yard sale.
In fact, all of the furniture that's in the room was either found at yard sales or on craigslist. We had to do some refurbishing and updating to most of the pieces to make them fit.
What is the name of the baby bedding set collection that you chose? Where did you buy it or did you make it yourself? If you made your own, could you give the name of the fabric and pattern that your used?
All of the bedding in this room was made by my mom.
We picked out the material at a local fabric store but the lace used in the crib set was an heirloom that was passed down in our family from my great great grandmother. Needless to say I will never let this beautiful crib bedding set get away!
Could you give us some details on your nursery window treatments, lighting, rugs, wall decor and accessories? Where did you buy them and were any of the decorations handmade?
The nursery curtains are actually black out drapes combined with pretty, white curtains that I layered and tied together with ribbon.
The wall of pictures, that is the focal point of the antique style of the room's design, consists of a bunch of frames purchased from yard sales and the goodwill store. They were painted in various shades of off-white paint and hung with hooks so they won't fall off the walls if we have an earthquake.
I made the crib mobile out of materials I bought from Michaels Craft Store.
How did you store all your baby's goodies and clothes? Do you have them arranged in baskets, on shelves or in the closet?
All of the baby's stuff is stored in baskets or in the nursery dresser's drawers.
How long did it take you to decorate the room? Did you find decorating the nursery to be easy, fun or difficult and was your favorite part of the process?
I started putting together a file of ideas and working on it as soon as we found out we were expecting and I just finished. So, it took about 8 months.
Decorating the girls' room was so much fun, but because we were on a limited budget it took a lot of time to hunt for deals and do some creative thinking. But I loved every part of it and would do it all over again and again!
Did you do the entire nursery on your own or did someone help you?
I did the majority of it myself but my husband helped put the furniture together,installed the crown molding and did the painting.
As I mentioned earlier, my mom made all the bedding which was amazing because I could not find anything I liked for her crib.
What do you love most about your little one's finished nursery room?
I love how everything came together. It feels so homey and comfortable and my 6 year old loves this room! I hope that vistors that come to
Unique Baby Gear Ideas
like it and that our new baby girl will love it just as much as we all do.