Abby's Butterfly Nursery Decor
by Angie
(Allentown, PA)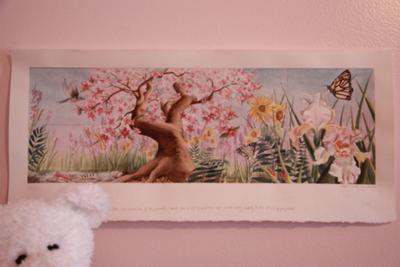 Watercolor wall mural painting. Inspiration for butterfly nursery theme for a baby girl
Abby's butterfly nursery decor was inspired by my watercolor paintings. My folder of butterfly nursery decorating ideas was filled with touches that were to create an atmosphere of lying in a field of grass looking up at a tree and flowers. I wanted our baby girl to enjoy the view from her crib.
Go here to see more

decals and wall decorating ideas for your baby girl's butterfly themed nursery room.




The butterfly nursery theme was continued throughout the room by adding other touches of nature.

The photograph of the pair of doves was a gift from my cousin. The butterfly crib mobile was purchased from Pottery Barn and the bedding is from the Jo Jo Designs Eyelet Crib Bedding Collection.

It was important for me to keep the mobile and bedding white because anything more colorful would compete with the mural that we chose to be the decorative focal point of Abby's butterfly nursery decor.

The pressed flowers that decorate the walls were picked shortly before Abby was born. I made the piece that says Abby's name.


The baby's crib is made by Cache and the rest of the nursery furniture is "recycled". The changing table was given to us by a friend and the rest of the pieces were family pieces that were handed down. I ordered the ottoman and the pad for the rocking chair from a website online and then sewed a small pillow with the same fabric I covered the ottoman with.

It was very meaningful for us to be able to use antiques that came from loved ones as part of Abby's butterfly nursery decorating ideas. For example, the cradle with the stuffed animals in it was mine when I was a baby, the vanity belonged to my mom's aunt and was restored by my dad. I love mixing modern furniture with antiques.

The walls of the Abby's nursery are painted pale pink with a burgundy accent wall. My husband put down the wood floor. He bought one box of wood with every paycheck until he had enough.

Please visit Unique Baby Gear Ideas often to see the latest tours of nurseries decorated with beautiful butterflies.