A Winning Design for a Boy/Girl Twin Nursery
by JB
Our baby photo contest has brought in some cute pictures but one boy/girl nursery stands out in the sea of pictures that I've looked at in the past. In my opinion, it's one of the cutest rooms ever and according to moms that visit that visit looking for ideas and decorating advice on planning a nursery for twins; this nursery design rocks.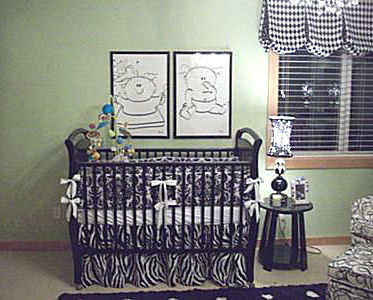 Boy Girl Twin Nursery Ideas
Some of our visitors remarked that they were inspired by the color scheme and decor and were going to run with it whether they planned on having twins, triples or a single baby; it's just that attractive. For that reason, the pictures of Nancy's twins' sage green, black and white nursery design won 1st prize in our contest.
Her entry got so many favorable comments that it was obvious she had truly hit the ball out of the park and was developing a following! She got lots of compliments from her fans on her choice of
cribs for twins
as well as the custom zebra baby bedding set. Parents also appreciated how she mixed several fabric patterns in lieu of a nursery theme and that she gave them an option beyond one of the most popular themes for twins; Noahs Ark. The sage green Ralph Lauren wall paint color and the nursery chandelier from Restoration Hardware were big hits, too!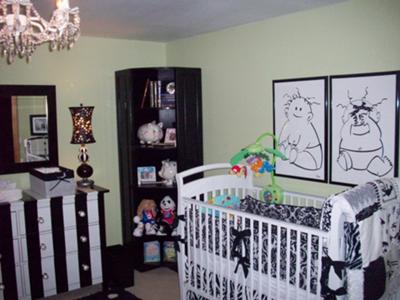 I believe that this room is proof positive a nursery with no theme decorated in neutral colors can be very interesting. Plus, the color scheme with the bold black and white designs is great for the babies. They will be able to see the black and white polka dots, harlequin print and other shapes printed on the fabrics and decorations including the adorable wall art very early on.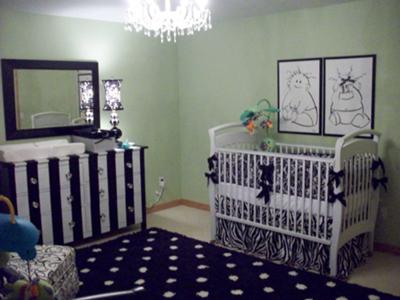 But the main topic of conversation amongst the DIY decorators was the precious drawings that were used as decorations at her baby shower and then framed and used to decorate the walls of her baby boy and girl's room. The general consensus was they "are the most precious things I've ever seen" and "absolutely perfect for a set of fraternal twins". Nancy's friend, Janice, is quite the graphic artist as well as a seamstress; she also made the crib bumpers for the babies' cribs. If you would like to speak with her about creating similar art for your twins' nursery, her email address is janicegoodman at skynetbb dot com.