A Princely Baby Boy Nursery Design
by Jan
This baby boy nursery design is so elegant that the only description that comes to mind is "princely".


The room's decorations in shining silver, gold and bronze present a refined display against the wall paint color of baby blue with antique white trim.



The décor features fond memories of mom and dad's honeymoon trip and a tour of the Tuscan countryside.
The color combination of the nursery, baby blue, antique white and gold is all "Prince" which is perfect for a baby boy's room with a prince
baby nursery theme
but mom and dad's planning with pay off should they have a baby girl next time around.
The color of the nursery wall can easily be changed to pink and even the blue bows of the baby bedding can be swapped for ones in feminine colors in the future should a princess nursery theme become necessary.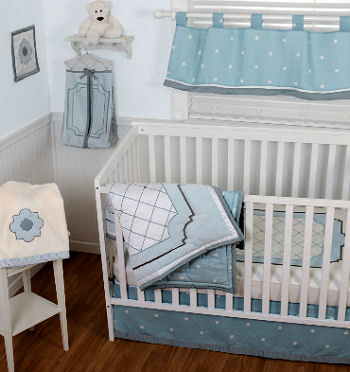 Go here to see more
ideas for decorating a nursery for your prince.
There are many pictures of nurseries that have been decorated in a royal style on
Unique Baby Gear Ideas
sure to inspire ideas for your prince or princess nursery design to see before you go.