23 WEEKS PREGNANT PICTURES
by JENNIFER
(PUERTO RICO )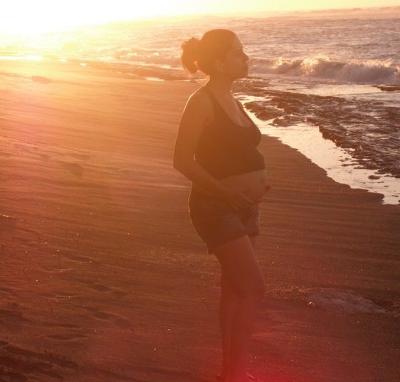 23 WEEKS PREGNANT PICTURE
THESE 23 WEEKS PREGNANT PICTURES WERE TAKEN OF MYSELF AND MY OLDER DAUGHTER WHILE VISITING THE BEACH IN PUERTO RICO.


How to Look Amazing in Your Maternity Picture
WHAT COULD BE MORE BEAUTIFUL THAN ENJOYING THE SUNSET AT THE BEACH WITH BOTH MY BABY GIRLS?
THE COMBINATION OF THE TROPICAL BACKGROUND, MY SWEET DAUGHTER AND KNOWING THAT I HAVE ANOTHER BABY GIRL ON THE WAY MADE ME FEEL SO VERY BLESSED.
From the webmaster:
Thanks so much for sharing these lovely
23 weeks pregnant pictures
with us, Jennifer! The photo of your older daughter hugging your pregnant belly is so sweet. The lighting of the sunset gives the pictures a peaceful, dreamlike quality. They made me feel calmer just looking at them. When you are ready to start decorating a nursery for your baby girl, I hope that you will visit again to share your
baby nursery ideas
with us. We have many, many pictures of beautifully decorated nurseries for baby girls some of which have a tropical look that might be just what you are looking for if you want to take memories of that very special day at the beach home with you. All the best to you and your girls!