Around the World Travel Nursery Ideas for Baby Boys or Girls

Globe trotting parents will love the around the world travel nursery ideas for baby boys or girls that we have for them on this page.  We will learn that when decorating a room in this theme that there are many directions to take as far as decor is concerned.

Emphasis might be placed on locations via travel posters or a decorating style a particular region is famous for or souvenirs that were picked up by Mom and Dad when they were on their honeymoon.
There are also decorative possibilities for decorating the baby's room using a favorite mode of transportation including, trains, planes, cruise ships or as is the case in this project, vintage automobiles.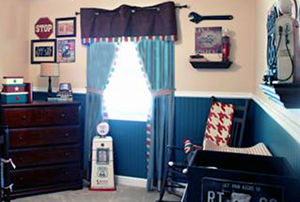 The vintage Route 66 road signs, tools and an antique gas pump in this baby's room speak of a very popular driving vacation destination.
Of course, for a road trip you will need a map.
Frame and hang maps of a specific country or location or apply decals directly to the wall.
There are map and travel themed fabrics that can be used to sew your own world map baby bedding.
Or you can use quilting fabric that you have in your stash to applique a world map onto a solid color back ground and make your own crib quilt.
Such a quilt would be well worth the time spent sewing as it can be used for many years, first as an addition to the baby bedding, second, as a spread for the toddler bed and then as a throw blanket in a big kids' room.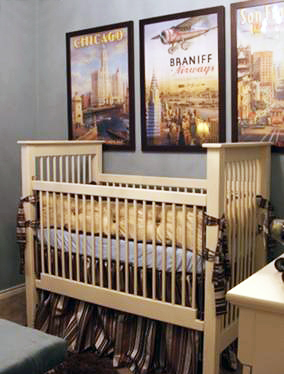 A mix of vintage travel posters and maps add interest and personalize the space.
Making use of beautiful maps found in old books at a consignment or secondhand store as wall decor is one of the best world travel nursery ideas that
Unique Baby Gear Ideas
can recommend to save money and flesh out the nursery's design.
I hope that you have found some creative world travel nursery ideas that can be adapted to your own personalized nursery design in our tour of the various examples we have provided for you on this page. Please take a moment to leave a comment for the decorators that thoughtfully shared their decorating tips with you using the forms provided for your convenience.