Whimsical Baby Seuss Nursery Ideas
by Kathryn
(Satellite Beach, FL)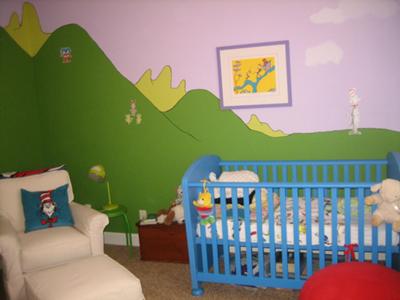 The Whimsical World of Dr. Seuss in Our Baby's Nursery
A couple of Dr. Seuss character prints inspired the whimsical baby Seuss nursery theme that you see in the pictures. To give you a little background, my husband and I are Dr Seuss fans from our childhood days.


Shortly after deciding we would start trying to conceive we invested in two licensed Dr. Seuss prints, "Oh the Places You'll Go" and "Oh the Stuff You Will Learn."



We used the colors and characters featured in the artwork as a guide, my husband sketched out the hills and water in the mural on all the walls using a pencil and marker.
Get More Baby Seuss Nursery Ideas Here
We chose our nursery colors based on the ones used in the prints and from there came the light purple sky, bright green grass and the brilliant blue waves that brought the painting to life. The bold, black outline around the focal points of the scenes that is "classic Seuss" was a key detail made possible by Sharpie paint pens of various widths.
Dr. Seuss Nursery Furniture
To furnish this whimsical baby room we first bought a fabulous blue "cartoon-looking" crib at Ikea that had a matching bright blue bookshelf. The basic white Crate and Barrel gliding chair is accented with a Seuss pillow from Pottery Barn. We ordered a basic white changing table from online.
Baby Seuss Nursery Decorations
Another Seuss Pottery Barn find was the print of the Cat in the Cat reading a book that framed up very nicely. This piece is hanging just above the bookshelf.
The red mushroom looking item next to the bed is a classic from the 1970's. It's something my husband and his siblings played on in their childhood. My mother reupholstered it in brilliant red fabric and we hope it lasts another 30+ years!
The Cat in the Hat coat hook was a handmade gift, handed down to us by a family friend who had made it for her children years ago. She also blessed us with a collection of Hallmark Dr. Seuss figurines which are now on display on the bookshelf.
We decorated the wall above the nursery closet with a
Dr. Seuss quote decal
with the words "Be who you are say what you feel, because those who mind do't matter and those who matter don't mind" that we had custom made from an Etsy shop. Additional wall decals of various Dr. Seuss characters finish off the room perfectly.
Decorating our baby's Seuss nursery was so much fun and I love everything we did but my favorite details are Yertle the Turtle on the top of the Hill - so he can see oh so far!, and The grouchy character from "Green Eggs and Ham" giving them a sniff with a grimaced face, placed just above the changing table.
Four pictures are not enough to showcase our whimsical baby Seuss nursery ideas and do the room justice. But I hope you enjoy the pictures that we have shared here and if you have any questions or comments that you will send them using the comments section provided by
Unique Baby Gear Ideas
. Our baby is due any day, and we are so excited that we can begin reading him/her Dr. Seuss stories in this whimsical Dr. Seuss Nursery that we decorated ourselves!